The Gambia not only a pawn but China's new puppet
The Gambia is expecting a check book diplomacy as cozy as the one they had with Taiwan, but it might not last as long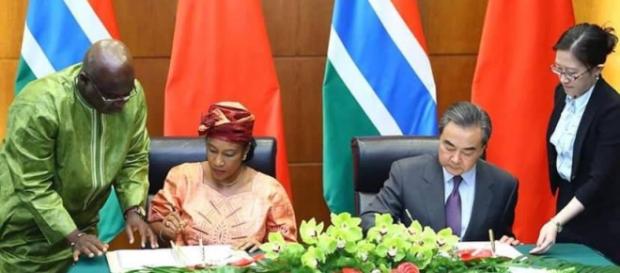 "It is our considered view that The Gambian and Salvadorian cases should serve as ample evidence for the need for Taiwan to review its foreign aid policy which appears lacking in rigor," said Sidi Sanneh, The Gambia's former foreign secretary after his country abruptly broke ties with Taiwan.
China resuming relations with Gambia
Barely three years later, Taiwan has not only had a new president, Tsai Ing-wen but China has put her pro-independence stance to a test by resuming relations with Gambia last week. Since 2013, Gambia has approached China to resume relations, but out of respect for outgoing president, Ma Ying-jeou, did not reply to the offer.
Gambian analyst Sam Phatey did not expect China to start relations with Gambia before 2018 but having to give Tsai Ing-wen a warning is a good reason for China to play a small and not powerful country.
China has no economic, military or political interest in The Gambia. Experts believe Gambia is being used a pawn to get Taiwan's incoming new leader Tsai Ing-wen to rethink the stance of the pro-independence Democratic Progressive Party (DPP) that could sour future cross-Straits ties.
The country is looking to have great check book diplomacy with China, which resulted in its fall with Taiwan after the latter denied giving $10 million requested by the West African nation. The country has lost most of its funding from its key development partners like the UN and efforts to get financial help from Arab and Gulf States are proving rather difficult – even after declaring itself an Islamic Republic.
The Gambia was advocating for Taiwan's recognition by the United Nations but now it says it "recognizes that there is only one China in the world and that the #Government of the People's Republic of China is the sole legal government representing the whole of China and that Taiwan is an inalienable part of China's territory."
Chess match between China, Taiwan
China is showing Taiwan it has the ability to take its allies, of which only 22 are left and all of them willing to start relations with the mainland. Without natural resources and unreliable diplomatic relations with its president making unilateral decisions to pull the plugs anytime like the way he withdrew the country from the Commonwealth, China will not be heavily investing or cutting checks like Taiwan. The tiny West African country just became China's puppet whose strings they can pull in any direction as a warning to Taiwan's president-elect to act accordingly. #Foreign Policy #World Politics