Sleeping with the fishes is not as terrifying as you may think
An underwater bedroom is being launched by the Aquarium De Paris for visitors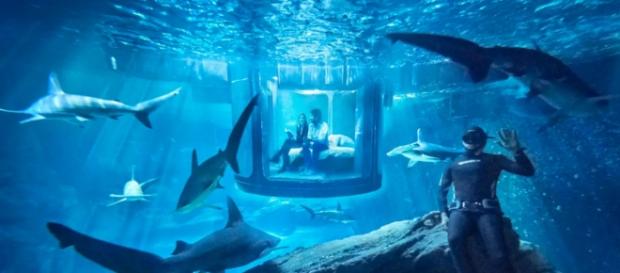 Sleeping with the fishes...literally
Are you scared of sharks? Would you sleep while being surrounded by them? Airbnb is an American company that holds an online platform for rentals anywhere in the world for rooms, apartments or entire houses straight from their owners. And right now, they are launching a new rental place. A "bedroom" located underwater, surrounded by one of the most vicious sea animals, sharks.
The bedroom is located 10 meters underwater with a 360 degree view of the pool, allowing visitors to better understand the sharks' environment, which was in fact the main reason for the concept. Visitors will be able to see Fred Buyle dancing with the sharks.
He is the host of the event and will be the guide in the aquarium showing people the underwater life and the shark's environment with the idea of making people understand how sharks are needed for the ocean's ecosystem. He is a shark conservationist known for breaking the world record in free diving and will lead visitors through the event between April 11th and 13th.
Only 12 people will have this opportunity, as a competition is held to select the winners which will be able to attend the event. Each day, during the three day event, four lucky people will have the chance of seeing the sharks with their own eyes from such a close distance.
"Bedroom" will be used by biologists to study sharks
The aquarium was tested in the Mediterranean Sea, and once the event ends, the "bedroom" will still be used as a study area for biologists.
This will allow them to reduce the number of divers needed for observing the sharks' domain. As sharks are needed for the ocean's ecosystem, it would be a risk to let them disappear. That's why biologists want to observe them closely, learning from them and finding the best methods of better protecting them.
Alexis, the CEO of the aquarium is excited about this event. Since this is the first aquarium in the world to offer such an experience, people who will attend the event will most likely get to enjoy that unique experience most of us crave. Hopefully, other such events will take place in the future so more people can have this chance to observe sharks from such a close distance, as it can be as entertaining as it is educational.