Zimbabwe justify sale of live elephants to China as US hunting-trophy ban bites
Minister says they will continue look to other markets to fund conservation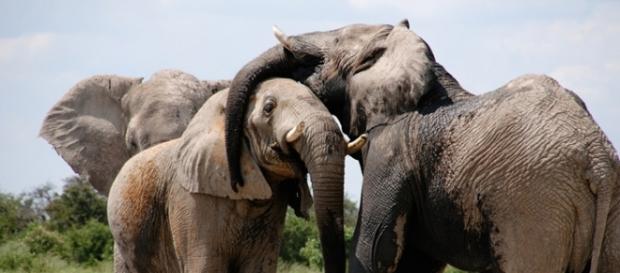 The very unpopular sale of 24 young elephants to China last year has been justified by the Zimbabwean Parks and Wildlife director, Edson Chidziya. Bloomberg reported that when addressing government "lawmakers" on Monday this week, Chidziya said that the government will continue to look to the east as a market for wildlife following the ban by the USA on elephant trophies and lion products.
The sale of the elephants generated conservation income
Speaking about the elephants sent to China, Chidziya confirmed that one of the youngsters had died in captivity. The sale of the elephants generated $1 million which he said has been ploughed back into conservation efforts.
Earlier this year, Kashiri, the Zimbabwean Minister of Environment said that the country would be turning to the countries of China and Russia to look for income from hunting as the US ban on trophies would hurt the country financially.
Zimbabwe started an ambitious anti-poaching operation last year which involved joint Parks, Police, and defense force personnel. They have had some success: last year, 175 poachers were arrested. The figures show that much more needs to be done to stop this slaughter.  Zimbabwe is not a wealthy country, so the government feels they are justified in generating funding for conservation any way they are able.
Conservation V.s. Preservation
The conservation rather the preservation stance taken by Zimbabwe was inherited from the Rhodesian government at Independence.
Conservation and preservation are two entirely different aspects of wildlife management and are often confused. Preservationists are concerned with a hands-off approach to create an aesthetic natural wilderness with minimal human impact, whereas conservation has its roots in a sustainable take off of fauna and flora to generate funds to protect National Parks and benefit communities.
The conservation approach toward the protection of wildlife and wilderness is not unique to Africa. In the USA, President Roosevelt felt that the concept of the preservation of nature for nature's sake was missing the mark. He believed that a "sustainable harvest" of resources would benefit both humans and nature. This led to the current US Fish & Wildlife Service which does allow controlled hunting in the USA. The Fish and Wildlife portfolio includes the issue of licenses for hunting, the running of courses on ethical and youth hunting, and hosts an article on their website about the Blackbeard Island National Wildlife Refuge in Georgia, that uses  archery hunts as a management tool for white-tailed deer and wild hogs.
Zimbabwe justifies live and hunted exports
The killing of Cecil the Lion in Hwange National Park brought hunting issues to the front of the preservationist agenda. Zimbabwe had culled excess elephants for years, but the demand for hunting had led to an excellent generation of funding from hunters. Many of these hunters came from the USA. In Zimbabwe, controlled hunting is viewed as a way to generate income to protect the greater environment. There, it is considered less traumatic than the outright slaughter of family groups during the old culling operations. Pressure to stop the hunting of elephants and lions in Zimbabwe is now being used as a way to justify the export of live animals to China. #News #Buzz