Zambian poachers voluntarily surrender thousands of guns and snares
Rate this title
The man from Raleigh NC working for poverty alleviation: The flipside of the poaching war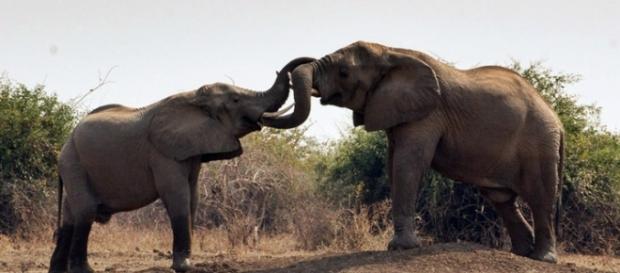 Nearly two thousand guns and thousands of snares have been handed over by poachers who want to build a future for their families. This is the flipside of a poaching war that is "not driven by law enforcement," COMACO Founder Dale Lewis said in a documentary interview with Marcus Bleasdale.
Dale, who grew up in Raleigh, NC, in the USA, has spent over thirty years in Zambia. His elephant research later bloomed into a deep desire to find a solution to the poverty that leads to the poaching of Africa's wildlife. Nourishing the World blog site wrote that Dale's love of conservation had led him to the central African country of Zambia and his desire to alleviate poverty and protect the environment "Compelled him to stay."
Market-driven farming
Dale's vision of small farmers participating in a market driven economy has changed over a million lives in the Luangwa region of Zambia.
Through Community Markets for Conservation (COMACO) entire communities who often relied solely on poaching to feed their families are now producing quality food that is sold under the brand It's Wild.
Poachers who surrendered their snares and guns in exchange for training and funding to start sustainable farming tell their stories on the COMACO website. "My life was hard. Killing, Killing, Killing…one bullet, one elephant," says one poacher. "To buy a pair of shoes, I had to kill a buffalo," says another. "Some of my friends lost their lives as poachers."
The Luangwa in Zambia is a vast wilderness where wildlife and humans have endured years of conflict. Dale described how one farmer told him that he was a "destroyer," but now he has "become a human being" and he is a "respected person" in his community.
Environmental spin-off
COMACO and their partners provide the technical know-how and the funding to farm in an ecologically sustainable manner. Now these farmers are producing natural, organic foods. They are paid a premium price for their products. Instead of relying on bush meat for food and ivory poaching to provide basic human needs, the farmers have found financial security. It's Wild's production plants are managed to the highest quality standards and the resulting peanut butter, honey, and cereals are stocked in leading Zambian chain-stores. Every time a Zambian buys the product, they are contributing to saving the wildlife of Zambia. 
"Poaching has progressively declined in many parts of the Luangwa area," says Dale. "As the program has expanded the numbers of participating farmers have exceeded 140,000 families who are now having a direct effect on the quality of the land. Harvesting of timber to make charcoal is slowing down, and over 1 million ha. of customary land has been set aside as community conservation areas.
Honey farmers collect their product from over 13,000 hives and find economic benefits in protecting forests."
Animals are no longer dying in vast numbers as before. Fathers are no longer being shot and killed by law enforcement officers. Children have opportunities to go to school and grow up as self-sufficient members of society. The Zambian government is so pleased with the results that they are looking at using the COMACO model as a long term solution for balancing agriculture with conservation.
Long term
If the project could become standard policy throughout Africa many more poachers would hand over their guns and engage in green farming. Despite millions of dollars channeled into fighting the poaching war, the war is not being won. Hearts and minds can only be changed when people have food and dignity. The African people could have all of that, and their magnificent wildlife if the COMACO strategy could be adopted across the continent. 
To misquote Shakespeare, an Ivory Kingpin's...conscience is as wide as Hells gate. They don't care if they plunder Africa into wasteland. If Africa is to survive the onslaught, it will be those who live in and benefit from the natural resources of Africa who will say "Enough is enough. The killing stops here."
Click to read more
and watch the video
or