The rescued Zimbabwean baby elephant named Little Africa has died
Rate this title
Little Africa's death is a legacy to those who fight for wildlife across the world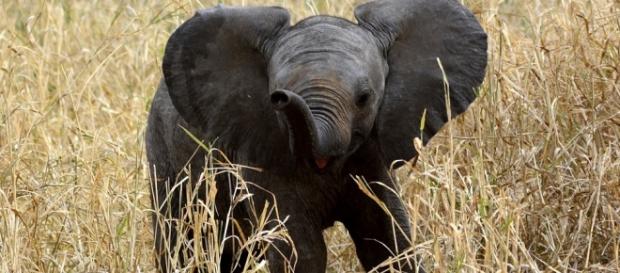 Nine days ago the sad but heartwarming story of the villagers who rescued a baby elephant traumatized by the death of his family was published in Blasting News.  Named Africa, the poor little fellow has now passed away.
Neddy Trevor, an elephant advocate of the Stop the Poaching of Elephants and Rhino in Africa group on Facebook summed up the sadness when he posted his short but apt eulogy to Africa.
"Breath now your soul Africa. Rest in peace. It was a brutal battle that you fought from the beginning to the end. You are now at peace with your mother. You have left a hole in my heart that can never be filled up."
The astonishing depth of human compassion
There are so many stories of baby animals left crushed and traumatized in the wake of the poaching across Africa, but every now and then one of them stands out.
The tragic events that these young animals have lived through are offset in a way by the astonishing depth of human compassion. That's what gives us hope in our fight for wildlife across the world.
The poor villagers where Africa went for help could have ignored the little animal, or chased it away, or even killed it for food, but they did not. They saved it and sent for National Parks Rangers who cared for it until staff from Wild is Life Trust and the Zimbabwe Elephant Nursery relocated the baby to the Harare-based Elephant Nursery.
Even in death, this elephant is a conservation success story
Wolfgang Thome reported on his blog site that the baby elephant that had been rescued was a conservation success. Even though little Africa has now died, the sadness cannot take away the good work that was done by rangers hardened by elephant poisonings, poaching, and drought.
The death of this little baby will never take away the good thing that was done by a poor community in the north of Zimbabwe, where hunger and hardship are never far away.  
Baby elephant Africa will be remembered as a conservation success precisely because of the generosity and caring that was demonstrated by the actions of those villagers. It is a message to the millions of people in Africa, in the USA, in Europe, and Australia that donations, tweets, Facebook posts, and lobbying for change have real meaning.
Worldwide movements reach across oceans
Actions that are carried out like last weekend's USA Mardi Gras with the Great Tuskers of AWE in Metairie, New Orleans, Louisiana brings the youth to the forefront of the future of wildlife. It's part of a great event put on by Jefferson Parish Government called Family Gras. Each of those young people can be proud to know that they are supporting a movement that can change the perceptions of communities in Africa. We need more big-hearted villagers. We need more dedicated rangers and we need more people to keep on caring about the bloodshed that's going on across Africa for the price of an ivory trinket.
Click to read more
and watch the video
or