Baby orphaned elephant turns to local villagers for help after poaching ordeal
Zimbabwean community saves a baby elephant that lost family to poachers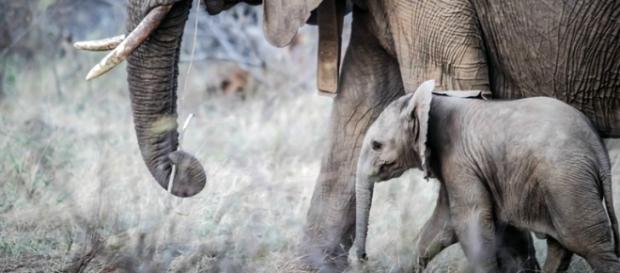 When three elephants died at the hands of poachers recently, a baby was left alone and vulnerable in the Hwange National Park in Zimbabwe. The vast game reserve that was home to Cecil the Lion has been targeted by poachers who shoot and poison the elephants for their ivory.
Baby elephants cannot survive without their family and are easy pickings for hungry lions and packs of the predatory hyena. Hungry, covered in his mother's blood and bewildered, the little one walked into a village just outside the Park.
ETN News reported that instead of ignoring the animal and leaving it to its fate, the villagers washed it down, soothed the traumatized animal and gave it water. National Parks rangers responded to the report made to their offices, and they took the youngster to their headquarters.
Naming the animal Africa, they nursed and fed it, kept it calm and safe from predators. Little Africa did well to survive the trauma of the poaching, the strange and unfamiliar surroundings, and the special milk they fed him.
When NGO Wild is Life and the Zimbabwe Elephant Nursery (ZEN) were notified of the plight of the baby, they transferred it to the ZEN sanctuary near Harare, the Capital City of Zimbabwe. The Nursery is in legal partnership with the Zimbabwe National Parks and Wildlife Management Authority. Africa is now being cared for by elephant experts and it is hoped that in time the young elephant will become less traumatized and make friends with other elephants.
ZEN is not a captive breeding facility and they do not capture animals from the wild unless they need genuine rescue.
They are careful to stay away from zoo-like commercial activities and dedicate their facilities to animals that have been abandoned in the wild, orphaned by poachers, or weakened by drought conditions. The long-term objective is to slowly introduce and release the animals back into wilderness areas as they grow older. Whilst they are resident in the nursery, the elephants are used to educate young children about conservation.
Africa will join baby elephant Sizi who was rescued last year after being found abandoned at a water pan in the dry south east of the country, and three other young elephants that were injured during the controversial capture of elephants sold to China.
Click to read more
and watch the video
or