Obama urges climate deal as U.N. summit opens in tense Paris
Rate this title
World leaders meet to work out agreements for limiting greenhouse emissions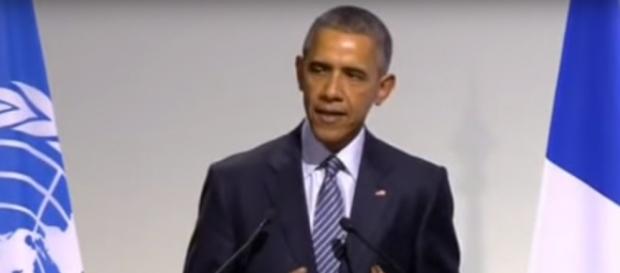 About 151 world leaders are meeting in Paris at the exhibition halls at Le Bourget Airport under heavy security for the climate summit. Paris is still on alert after the terrorist attacks that struck there on November 13 that killed 130 people.
As the climate summit opened on Monday, the French Foreign Minister Laurent Fabius told everyone that there were only a few days to make an agreement and get it finalized, as they want their mission to be accomplished by the time this year's summit is over.
Climate summit world leaders speak out on issues of climate control
The UN climate chief Christina Figueres opened the summit by explaining to the leaders and others in attendance that the responsibility for accomplishing their mission has never been as great as it is today and it is the responsibility of so few people to solve.
US President Obama was among the leaders in attendance, and he spoke to others at the COP 21 climate summit. He said that the US understands its role in being one of the nations that caused the problem global warming. He urged his counterparts that they all must come to a landmark plan to stop global warming before the Earth is doomed.
He told them that he was there personally as the one in charge of the globe's largest economy and the second-largest emitter of greenhouse gases to tell them that America is not only aware of what it has to do concerning climate change, but that it also is going to do something about it.
French president Hollande says global warming linked to security and strife
French president Francois Hollande also spoke out at the summit and said that the changes in global climate are driving strife and conflict in this century.
He linked security issues with global warming.
He also linked the battle against global warming to the battle against extremism, saying that peace was also at stake at the summit this week. He said that the fight against terrorism and climate change are two things the world must face.
China is world's biggest emissions emitter after US
Obama also held bilateral talks with the Chinese President Xi Jinping where he spoke on how vital the efforts of their two countries is to help fight global warming and climate changes. China is the second largest emitter of greenhouse gases, with the US as the first. The conference is all about reducing the world's greenhouse emissions, which are believed to contribute to the cause of climate change and global warming.
The leaders will be in Paris until December 11 for this year's climate summit.
Click to read more
and watch the video
or