Myanmar Election Results Show Aung San Suu Kyi's Opposition Party as Winner
Rate this title
Military backed Thein Sein concedes defeat in this weekend's elections.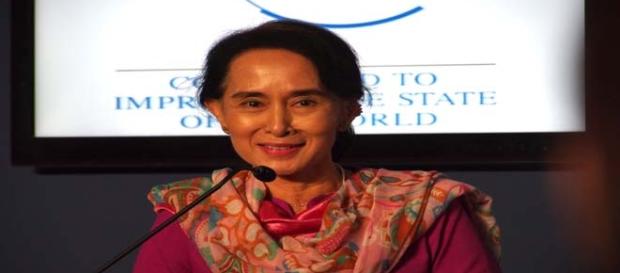 The current ruling party in Myanmar has acknowledged defeat, as the Myanmar election results show that the opposition party, led by Aung San Suu Kyi, is the winner. The losing president, Thein Sein, is from the Union Solidarity and Development Party, which is backed by the military. The new president is yet to be chosen. The winning parties in parliament will nominate and then choose a president and vice president. With a National League for Democracy majority, those chosen will certainly be from Suu Kyi's winning party.
Myanmar citizens voted in these Myanmar election results in what is being called the freest elections for the parliament in 25 years.
It is thought that 80 percent of the country's 30 million citizens voted in the elections. The National League for Democracy is expected to get 70 percent of the parliament seats after all of the Myanmar election results are finalized.
Despite Myanmar election results, Suu Kyi barred from presidency
Suu Kyi, who is also a 1991 Nobel Prize for Peace winner, still can't become the president under the country's current rules in its constitution. The reason that Aung San Suu Kyi cannot become the country's president is due to a constitution put in place in 2008 that keeps anyone married to a foreigner or have children who are foreigners, from being elected as either the president or vice president.
She was married to Michael Aris, a British historian who died in 1999, and their two sons are thereby British citizens.
Nonetheless, she says she will be the one who runs the Government. Previously, her party won in the 1990 elections, but these results were nullified by the military and she was put under house arrest for the next 20 years.
League for Democracy will have hard time ruling country
Therefore, Suu Kyi's National League for Democracy is expected to still have some trouble ruling the country, even though they have a majority of the parliamentary seats. Twenty-five percent of parliament seats must go to the military and when combined with the other seats that the Union Solidarity and Development Party has won, it will possibly cause the new government some difficulties.
U.S. Secretary of State John Kerry congratulated Myanmar for their historic election, but added that the process wasn't at all perfect, as several important structural and universal obstacles remain to the country realizing a fully democratic and civilian government. These include things like the seats reserved for the military, as well as the disfranchisement of people who voted in previous Myanmar election results like the Rohingya, and disqualification of candidates due to how their citizenship and residency was determined.
Click to read more
and watch the video
or