Greek Workers Strike and March on Parliament against Austerity Measures
Greek strikes turns vicious as some protesters toss Molotov cocktails at police.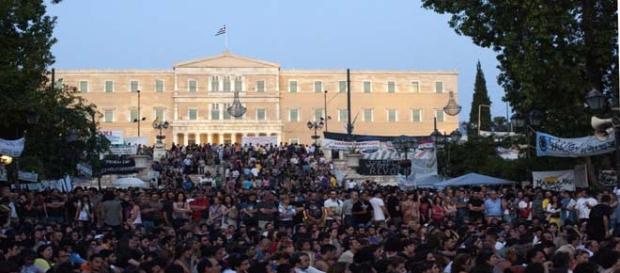 A Greek workers' strike has broken out on the streets of Athens in protest against austerity measures, and the resulting actions have caused streets and businesses to be closed as the protesters headed to the Greek Parliament. It is the first Greek workers strike, as well as the first big protest against the Government since September's landslide victory in the election by the SYRIZA party. Twenty-five thousand people were said to have taken place in the strike.
Greek public services and transport hubs were at a standstill and the metro, ferry and suburban rail services were all shut down. Hospitals and pharmacies were operating with small staffs and schools and most other businesses were shut down for the general strike.
Authorities fight protesters in Greek workers' strike
Police ended up firing tear gas at some of the protesters who began to throw petrol bombs, as three of the police were hurt in another attack and several people were arrested.
One protester said that the protest was a message to the Greek government that the people are on alert and aware of what is going on, and that the government needs to find other means and actions to keep from cutting pension and wages, and to give the people better health care and social security benefits. Also at issue are those who have defaulted on mortgages and risk losing their homes because of the austerity measures of cut benefits and increased taxes.
Greek Prime Minister accepted unpopular terms for Greek bailout
The nation was upset after the Greek Prime Minister Alexis Tsipras was forced to accept unpopular terms for the bailout of the country to the tune of 86 billion Euros.
Therefore, the unions for the Greek workers are battling the government during this strike as international leaders were meeting in the capital of Athens to look over how to handle compliance with the bailout package. The Greek workers strike is a show of solidarity against more austerity measures.
Tsipras is said to have agreed to his country's bailout after a change in policy because he had first campaigned against the bailout and the austerity conditions that accompanied it, but told the people he didn't have a choice and had to agree to the bailout so that Greece wouldn't default on its debts and thereby be forced out of using Europe's joint currency, the Euro.
Analysts have said that the Greek workers strike showed just what kind of political juggling Tsipras is trying to handle, and that several in his party believe industrial action, such as this general strike, will make him look stronger with the EU lenders.
Click to read more
and watch the video
or