Evacuation of Tourists Underway After Deadly Crash of Russian Jet
Rate this title
Stranded tourists in Egypt tourists finally making their way home after disaster.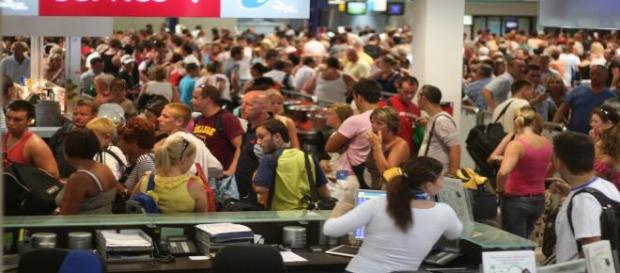 The evacuation of tourists is underway as thousands of holiday-goers are finally able to leave the Egyptian resort town of Sharm el-Sheikh after the downing of a Russian MetroJet October 31 headed from there to St. Petersburg, in which all 224 people aboard were killed.
Both Britain and Russia have been working to get the evacuation of tourists completed in a safe and secure fashion after fears that a terrorist bomb may have caused the crash of Russian MetroJet Flight 9268 last week. British Foreign Secretary Philip Hammond reported that by Sunday's end, at least 5,000 British citizens will have left the area, and Russian President Vladimir Putin ordered the Russian government to facilitate getting up to about 80,000 Russian citizens home as well.
Evacuation of tourists as restrictions, cancellations made in future flights
The airline disaster that proceeded the evacuation of tourists from the resort town in Egypt has also driven some European air carriers to restrict or cancel flights to Sharm el-Sheikh, which is located on the southern tip of the Sinai Peninsula. The British have suspended flights that were scheduled to go to the resort, while the Russians have stopped all flights headed to Egypt.
Additionally, the Mideast region's largest airline, Emirates, is now reviewing its security procedures in Egypt. Emirates Airlines President Tim Clark has said that he expects that the Russian airline crash will mean that there will be a demand for more stringent aviation security all over the world.
Those who were on the evacuation flights were only allowed to take hand carry-on luggage with them due to security concerns, and cargo planes such as 11-76 planes are said to be bringing the travelers' checked baggage home to them on later flights due to heightened security procedures.
Cause of crash still under investigation, no conclusions made as yet
The cause of the jet's crash is still technically under investigation, however, U.S. and British authorities have said it is possible a terrorist bomb was the cause, and a militant group claiming ISIS affiliation has taken blame, but no conclusions have been reached as yet in the actual crash cause.
The latest reports speak of an unidentified noise heard during the final second of the audio recordings from the cockpit, but chief investigator Ayman al-Muqaddam in Egypt, reported that the investigating team has not yet made a final determination whether that noise was an explosion or something else. An Egyptian source from the investigation, however, stated that they are 90% sure it was a bomb that brought down the plane.
Security at the Sharm el-Sheikh airport has been said to have been lax, with many gaps such as nonworking baggage scanners, negligent searches at entry gates, bribes supposedly made so passengers could get by security lines without being checked, etc.
Mohamed Rahma, a spokesperson for Egypt's Aviation Ministry, denied those rumors and said that the airport in Sharm el-Sheikh is one of the safest in the world, as the evacuation of tourists continued.
Click to read more
and watch the video
or