Baby girl cured of leukemia thanks to an evolutionary new treatment
Rate this title
Genetically engineered cells destroyed the cancer cells in only a few weeks.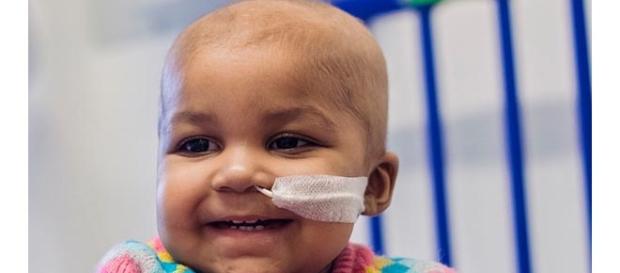 Only 3 months after she was born as a norma, l healthy baby last year in June, Layla Richards was rushed to the hospital with an unusually rapid heartbeat. When she didn't get better after a few days, doctors examined her blood and found that she had a very aggressive form of leukemia.  Sujith Samarasinghe, one of her doctors, said that "although cure rates are generally high for this disease, there is only 25% chance for small children to survive."
1 year old Layla Richards from London was cured of a very aggressive form of leukemia
Layla had several rounds of intensive chemotherapy and a bone marrow transplant, but seven weeks later, the cancer had returned.  Even though the doctors had given up on her, her parents insisted on trying anything that could save their daughter, even it was a new treatment.
Researchers at UCL (University College London) had been working on an experimental treatment with good results last year and again in May, but it had only been tested on mice.  Since their daughter was so sick and in a lot of pain, Layla's parents wanted the doctors to try this treatment, even if there was no guarantee it would work.
After approval of the ethics committee, Layla received a 1 ml infusion of genetically engineered cells. The procedure took only 10 minutes.  If the treatment worked, the doctors expected her to develop a rash within 2 weeks after the infusion. Just when the staff prepared to send Layla home after more than 2 weeks, thinking it hadn't worked, the rash appeared.
2 months later, she is still clear of leukemia and ready to receive a second bone marrow transplant to replace her blood and boost up her immune system, which had been destroyed by the treatment.  The doctors were very pleased with the result; one of them even called it "almost a miracle." Still they remain cautious, saying it will take a year to be 100% sure the cancer is not progressing.
Five to ten other children in the UK might also receive the same treatment this year.
The treatment uses genetically engineered cells
In this treatment, the white blood cells, which are very important in the immune system, are given an extra gene to make them attack the leukemia cells. Other genes are modified to stop attacking the patient's healthy cells and to make them invisible to a drug they use to suppress the patient's immune system.
Because of the good results, researchers are hopeful they can use the same technique to cure other blood diseases and other types of cancer.
Click to read more
and watch the video
or