Styrofoam eating mealworms could help curb pollution
Scientists discover meal worms can biodegrade Styrofoam and survive quite nicely on it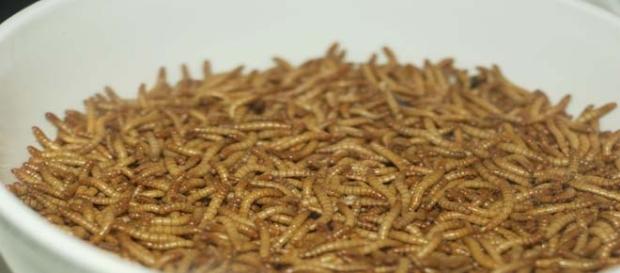 Plastic and other non-biodegradable products have been like a curse causing pollution all over the world, but now a study has discovered Styrofoam eating mealworms that could possibly save the world from this devastating problem.
A new study printed in Environmental Science and Technology was done by co-authors Professor Jun Yang along with his doctorate student Yu Yang from the Beihang University, and Stanford University engineer Wei-Min Wu. The study showed that these Styrofoam eating mealworms can live on eating plastic products and Styrofoam because a microorganism in their gut can biodegrade forms of polyethylene, which is what many plastics are made of.
Plastic Pollution Problems Could be Solved by Styrofoam Eating Mealworms
Wu told reporters that the discovery is hoped to solve the world's plastic pollution problems. His research involved documenting 100 mealworms that ended up eating the equivalent of about 39 milligrams of Styrofoam daily. That amount would equal an average pill's weight.
The Styrofoam eating mealworms were deemed to be just as healthy as the mealworms being fed a diet of bran, which is their normal diet. The plastic eaten by the worms turned into carbon dioxide, along with worm biomass and some biodegradable waste products that were considered safe for using with soil for plants and for edible crops.
Worms' Ability Crucial to Managing Pollution
The fact that the mealworms can biodegrade the plastic and Styrofoam they eat can be vital in the war against pollution.
While they are not the only creature to be able to eat plastic, as some insects such as roaches can eat it, they are one of the only creatures found to also be able to biodegrade what they have eaten.
The micro-bacteria in the mealworm's gut is the vital key in them being able to biodegrade the plastic materials, as when the researchers gave the worms some antibiotics, they were able to eat the plastic, but could not biodegrade and break it down.
In other studies, it was found that waxworms can biodegrade the plastic used to make plastic bags, which is another kind of plastic. Now, scientists plan to study them to see if like the Styrofoam eating mealworms, they too could possibly digest other forms of plastic materials like the microbeads found in exfoliates that have been polluting the oceans and causing other issues when they are eaten by animals.
Click to read more
and watch the video
or