Romania's ex-President Ion Iliescu charged with crimes against humanity
Rate this title
The charges are connected to the authorities's violent suppression of the June 1990 demonstration.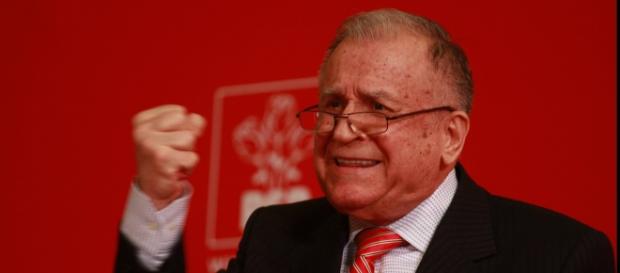 A past Romanian head of state has been present before the nation's Supreme court, which is putting him on trial for crimes against humanity in the course of an anti-government demonstration 25 years ago, in which six people succumbed and hundreds were injured, according to several media outlets. Ion Iliescu, 85, went to the High Court of Cassation and Justice to find out the charges connected to the authorities's violent  suppression of the June 1990 demonstration. He denies wrongdoing, but made no declaration during Wednesday's scheduled appointment.
A court report said Iliescu is being put on trial for the deaths of four men and women, the shooting of three others and denying 1,000 men and women of their liberty.
Prosecutors have not clarified why Iliescu is being charged with four loss of lives rather than six.
The chief of the Romanian Intelligence Service at the time, Virgil Magureanu, a close friend of Iliescu, also appeared on trial. Asked whether he was guilty of crimes against humanity, he said: "That's a stupid question."
The defense minister at the time, Victor Stanculescu, also  arrived, telling press reporters that prosecutors had mentioned him as a suspect in the scenario.
Club-wielding coal miners and police officers broke up a week-long pro-democracy revolt in Bucharest in 1990,  detaining and beating thousands of men and women. Iliescu later thanked to the miners, drawing critical remarks from home and in foreign countries.
Romanian television programs replayed the video footage of Iliescu thanking the miners, and the European Court of Human Rights has ordered Romania pay compensation to the victims of this brutal repression. 
The situation was certainly never correctly investigated because of the continued presence of former communist parties in governing administration.
But in March this year, army prosecutors restarted the case.
 Thousands of Romanians moved abroad after the 1990 troubles because of doubts about Romania's commitment to emancipation six months after the removal and execution of Communist head of State Nicolae Ceausescu.
Iliescu was elected President of Romania three times, serving from 1990 to 1996 and from 2000 to 2004. He is finally facing justice, 25 years later.
Click to read more
and watch the video
or