Refugee crisis worsens as some countries limit flow through borders
Rate this title
The European Union is set to meet to make plans to distribute migrants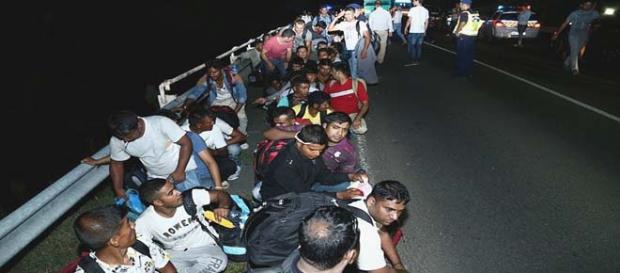 As the refuge crisis worsens, the European Union (EU) may take action against Hungary due to its recent introduction of laws limiting the travel of the migrants through their borders. The European Commission plans to send out a letter to Hungary explaining their concerns.
As of September 21, it is illegal to damage Hungary's anti-migration razor wire fence at the border, and no one can cross the border if they are not legal citizens. Prior to the enactment of this new law and building of the fence, it is estimated that about 155,000 had crossed the Hungarian borders as the refugee crisis worsens all over Europe.
Czech's Also Oppose Redistribution Plan as Refuge Crisis Worsens
Additionally, the Czech Republic is seemingly not happy as the EU attempts to deal with the problem.
Czech Prime Minister Bohuslav Sobotka announced that they would oppose an EU plan to permanently redistribute the migrants within the EU member states. Sobotka said they would vote against it if it became a proposal.
The statement by the Czech Republic came after EU ministers made up their minds to redistribute 120,000 migrants all through the EU even though several members of the EU states, including Czech Republic, as well as Slovakia, Hungary and Romania are against the plan. The plan is expected to go up for discussion at a meeting on October 8 in Luxembourg.
Germany Dealing With Disrespectful Migrants
Other countries too are facing issues as the refugee crisis worsens. For instance, the German interior minister urged refugees in Germany to have some respect for other people. He made his remarks in response to several fights that have recently broken out at some of the accommodations set up for the migrants.
Germany has been doing its best to accommodate all the incoming refugees, and Thomas de Maiziere presented plans to Parliament this week to try to streamline the process. They have acknowledged that some of these accommodations aren't very good, but that nothing else can be done presently.
Croatia Has Become Transit Location for Migrants
Meanwhile, in Croatia, it was reported that over 90,000 migrants went through their country in the last 14 days as they tried to get to other locations in Western Europe. Croatia has turned into a transit location since Hungary closed their borders with Serbia so that they could stop the flow of migrants coming into their country.
These refugees are coming from war torn areas such as Africa, the Middle East, and Asia and want to go to countries like Germany and Sweden. As the refugee crisis worsens, Europe struggles to find a solution and the crisis is not expected to get much better any time soon.
Click to read more
and watch the video
or