Nearly 200 Killed as devastating earthquake hits Afghanistan
Most casualties in nearby Northwestern Province of Pakistan with 123 dead.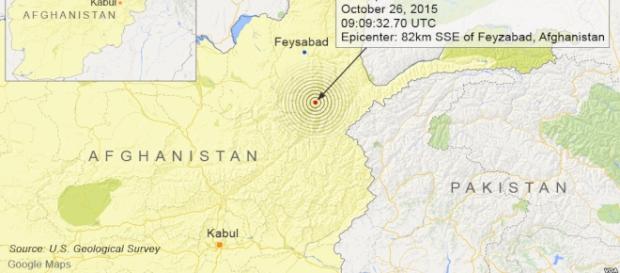 Officials in Afghanistan and Pakistan report that between the two countries at least 180 people have been killed and hundreds more wounded by the devastating earthquake that hit northern Afghanistan on Monday. The quake was said to have been felt all over the region, including in India.
The devastating earthquake hit in a remote area in Northern Afghanistan, centered 82 kilometers southeast of Feyzabad in the Hindu Kush mountain range. The US Geological Survey recorded it as having a magnitude of 7.5, and was centered about 212 kilometers underground. The area hardest hit was actually the northwestern province of Khyber Pakhtunkhaw, Pakistan, where so far 123 people died and 950 have been reported injured.
It was felt as far away as in Srinagar, India, which is nearly 300 miles from the center of the quake.
Damage bad, but could have been worse because of magnitude of quake
Pakistan's Meteorological Department added that since the epicenter of the devastating earthquake was so deep, it didn't cause as extreme damage and destruction when it hit the area as it could have. However, there are reports of over 1,400 destroyed homes in Badakhshan near the epicenter, and at least 12 school girls were trampled to death in a panic to exit their school.
Landslides have also been reported in some of the affected areas. The earthquake came only a few days after heavy rain had fallen in some areas in Afghanistan, which means mud built homes could be especially susceptible to damage.
Devastating earthquake reported as strongest felt in decades
The Afghan Chief Executive Officer Abdullah Abdullah, tweeted that Monday's earthquake was reported as being the strongest felt in several decades.
Emergency meetings were held by disaster officials as doctors and local hospitals were told to get ready for casualties. Additionally, in Pakistan the military was put on alert.
Furthermore, telecommunications abilities were disrupted all over the country so government officials had a hard time getting an exact accounting of the damage and number of casualties. People were also warned to prepare for aftershocks. All possible resources in the areas affected by the earthquake are being rallied and utilized. Additionally, it is thought that the death toll, as well as the number of injuries could go up dramatically once the final numbers are reported in the areas affected.
This mountainous region is prone to devastating earthquakes. A 7.6 magnitude quake hit on October 8, 2005 in Pakistan that killed about 75,000 people.