Macau to Hong Kong ferry crash injures over 120 people
Route safety is being questioned because of multiple incidents with ferries colliding with objects in the water.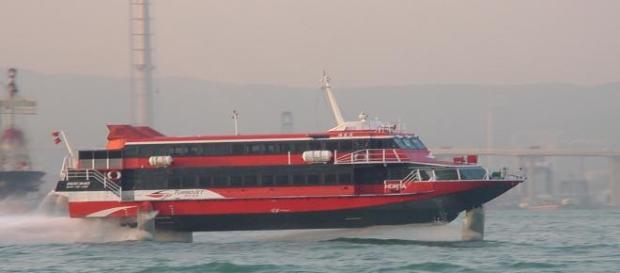 Over 120 people were hurt Sunday night with some reported in critical condition after a high speed ferry crash. The ferry was traveling from the casino area of Macau to Hong Kong. Hundreds of people were on the ferry traveling from the popular gambling hub when the ferry hit an unidentified object in the water according to local officials. The name of the ferry involved in the accident was Horta.
The Macau to Hong Kong ferry, which was a type of hydrofoil, was transporting 163 passengers and 11 crew members. The ferry lost power after the ferry crash, but didn't sink, say officials. The operator of the ferry, Shun Tak Holdings, reported that their preliminary inspection discovered there was damage to the ferry's engine room, as well as the boat's rear wing.
4th ferry crash in 2 years for Macau trips
Sunday's ferry accident was the fourth of its kind for the Macau ferries in the past two years. Ferries there leave every 15 minutes, 24-hours a day to bring passengers from Hong Kong's financial district to Macau, which is known for its fancy casinos and gambling venues.
A similar crash happened in November 2013 that injured 87 passengers when one of the Macau ferries collided with something near the remote Hong Kong island. Additionally, in 2014 one of their ferries ran into a breakwater in the Macau harbor and yet another struck a Chinese cargo ship in two different events that injured dozens of people. The worst maritime disaster occurred in 2012 when one of the commercial ferries ran into a boat and 39 people were killed along with 100 injured.
Injured taken to area hospitals, injuries included fractures, other wounds
Ko Wing-man, the Secretary for Food and Health, reported that the people injured in the ferry accident on Sunday were brought to Eastern, Queen Mary and Ruttonjee hospitals. The injuries included fractures, as well as injured ribs, shoulders and jaws. Victims ranged in ages from six and 83 years old. As of Monday, many had been sent home from the hospital, but there are 33 people reported to still be in the hospital with five who are critically hurt.
Anthony Cheung, the transportation secretary in the city reported that they were upset by the large number of passengers affected by the crash and that the Marine Department was going to investigate the cause of the ferry crash.
Click to read more
and watch the video
or