NASA announced a new discovery about Pluto: blue "sky" and regions of frozen water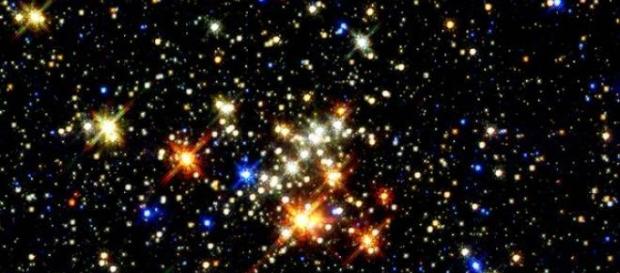 Last week NASA's spacecraft New Horizons captured colored images from the fog shell of Pluto's atmosphere. The fog particles are reflecting a blue sky. The spacecraft New Horizons also revealed small regions of frozen water on the little planet. Alan Stern, the main researcher of this mission said: "Who would have expected a blue sky in the Kuiper Belt? It's glorious!"
The way that the red and grey particles disperse the light has drawn NASA's attention. Scientist Carly Hewitt said that the striking blue shade discovered on Pluto gives information about the size and composition of the fog particles. 
NASA stated that the spacecraft New Horizons also found many small regions of frozen water on the planet Pluto.
This discovery was made using a mapping device, called Ralf, wich collected the information.
Scientist Jason Cook explained that large surfaces on the planet are not surfaces of frozen water because they are apparently hidden by other ice which is more volatile. He also said the the reason for which water appears in those places on the planet, but not in others, is a challenge. Another curious aspect is the fact that Pluto's areas wich are most likely to have frozen water correspond to the bright red areas. Another member of the team of researchers, Silvia Protopapa, was surprised that the frozen water is so red.
According to the British newspaper The Guardian, Alan Stern, one of the most respected NASA researchers, said that the world from Pluto is alive. He also said that every week he is amazed that the planet Pluto has fog in the atmosphere, weather cycle and is geologically active.
The American Space Agency kept the same discretion like in the case of the most recent major announcement they made: the presence of liquid water on Mars – this discovery is attested by the presence of hydrated salt deposits on the planet.
Many questions remained without any answer yet. Impressive chains of mountains and dunes, colorful surfaces and other elements of mysterious Pluto relief could not be explained by scientists yet. 
Click to read more
and watch the video
or