Israeli military on lookout for killers in Jewish settler deaths
Parents killed in drive by shooting in front of their children on way home from graduation.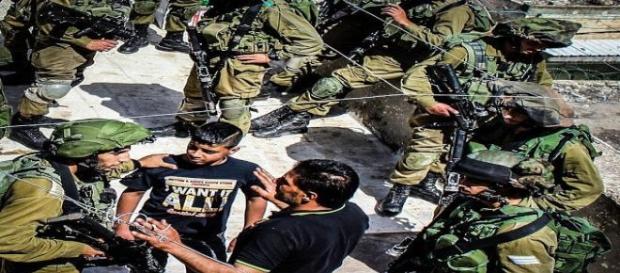 Israeli troops were searching all over the West Bank Friday for the alleged Palestinian killers involved in Jewish settler deaths. A couple was shot and killed right in front of their children, according to the army officials. The manhunt was taking place in the occupied portion of the West Bank and the News of the deaths sparked several assaults on Palestinians in the area.
The couple killed in the Jewish settler deaths were Rabbi Eitam Henkin and his wife Naama. The two were in their 30s and were killed as they drove from Itamar to Elon More on Thursday. There were four children in the car with them, but they were unharmed in the back seat.
The children ranged in age from four months to nine years old.
Foreign ministry says Jewish settler deaths were caused by drive-by shooting
The Israeli foreign ministry reported that there were two gunmen involved in the attack, and that the shooting was done drive-by style. After the couple and their children were found, Israeli forces were soon out doing a search for the killers, checking vehicles that were in the area of the double shooting.
The couple and their children lived in the Neria settlement, which is northwest of Ramallah, and is also the seat of the Palestinian Authority. According to a report by the foreign ministry, the family was on their way back from attending a school graduation ceremony when they were shot at about 9 pm.
Killings condemned, EU calls for justice
The killings were condemned by Israeli Prime Minister Benjamin.
He told residents that he would make sure security forces worked to catch the killers and to help make security better for all of the Israeli citizens.
Additionally, the European Union is calling for justice, as well as restraint. They stressed that calm is required on all both sides regarding the Jewish settler deaths. It is hoped that the violence and attacks won't escalate and make the problem worse as tensions are rising between the Jewish settlers and the Palestinians in the area.
Tensions on the rise after shooting deaths
The Palestinian news agency Wafa reported the tensions were indeed rising in the area after the Jewish couple were killed. For instance, settlers shot a 35-year-old man in the leg near Bethlehem, as well as reports of cars being stoned and sprayed with paint.
The Henkins were buried on Friday at the Har Hamenuhot cemetery in Jerusalem. Israeli President Reuven Rivlin attended the funeral along with the Henkin's 9-year-old son and both of his grandmothers. Authorities vow not to let the two Jewish settler deaths go unpunished.
Click to read more
and watch the video
or