131 dead and 300 people missing after mud slide when river Pinula bank collapsed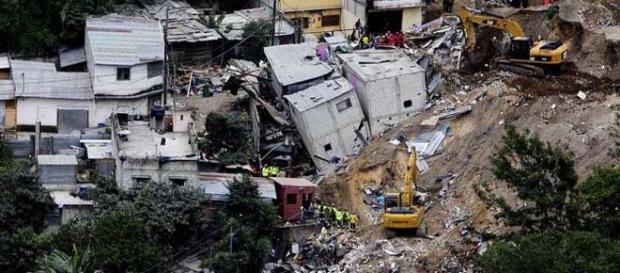 Thursday night, after several days of rain, the banks of the river Pinula in Santa Catarina Pinula, Guatemala collapsed. Most of the people of this small suburb of Guatemala City were woken abruptly during the night, when their houses started to slide down with the mud. Around 1700 m2 of soil slided into the river. The few survivors are devastated because the little possessions they had were lost, many lost family and friends. In some cases, even complete families have died in a few minutes during the tragedy.
Some survivors reported they received messages from family being trapped in their collapsed houses. Despite the help of hundreds of rescuers and volunteers, little chance remains of rescuing victims alive after three days of searching.
The mayor decided to stop to search for survivors, because all the ruins are flooded with water by now. The search now continues to recover the bodies of the victims.
Although the list of missing relatives already reached up to 300 names, there is still hope that some people managed to get out and find shelter and will rejoin their family when everything gets cleaned up.
Tragedies like this are not abnormal in Guatemala, a country with extreme poverty where 60% of the population is living in sheds.
 According to the government, 568 slums are registered in the capital of Guatemala and this number continues to rise when more people are fleeing from the country side to the cities.
This is not the first time this kind of disaster happens. In 2005 the village Panabaj disappeared when it was buried under rocks from the adjacent mountains. 
Last week's incident was even predicted.
Last year the mayor of Santa Catarina Pinula ordered a study from the metereology institute about the possibility that the nearby river would flood the town in case of heavy rains.
An area of 100 m next to the river banks was considered to be a risk zone. Because of subsequent floods the last year, the soil had become saturated and couldn't take any more water. People had been warned that they were in danger but nobody wanted to leave their house.
City Hall even confirms that building on the banks of the river was illegal and they never were granted permission to build there because of the unstable grounds.
Click to read more
and watch the video
or