Chinese President Xi Jinping visits the UK to meet with Queen
Rate this title
The two nations work on closer economic ties while concerns about human rights loom.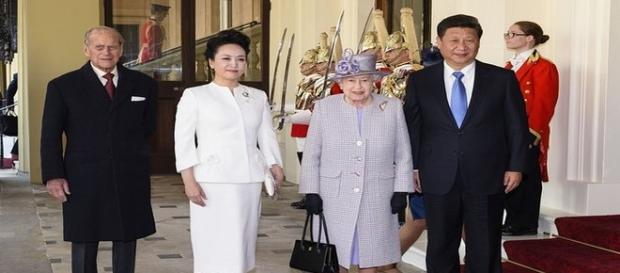 Chinese president Xi Jinping is visiting the UK for a four-day state visit that is meant to proclaim closer ties between Britain and China, as well as seal the deal for over £30 billion ($46.4 billion) of trade and investment contracts. Xi was welcomed by the Queen with a display of the country's ceremonial units from the Armed Forces.
However, some are concerned about the human rights issues in China, such as their recent dumping of cheap steel that the people blame for losing thousands of UK jobs in the past few days. Critics warn that Britain will regret making deeper ties with China, but Foreign Secretary Philip Hammond asserted that this plan was being made in the country's national interest.
Xi Jinping will address both houses of the British Parliament Tuesday.
Xi Jinping tours with Queen
The Queen greeted the Chinese president at London's Horse Guards Parade grounds and they shook hands. Xi was ushered into the area in a limo with the Prince of Wales, the Duchess of Cornwall and Xi's wife, Peng Liyuan, followed in another vehicle.
A 41-gun salute was performed by the King's Troop Royal Horse Artillery to welcome the group. The parade ground featured a guard of honor with three officers and 96 men in rank and file order from the 1st Battalion Grenadier Guards. The captain of the honor guard, Major Benjamin Jesty, then proceeded to march forward and present his men to Xi, and showed him honor by giving the order in Mandarin. The Chinese leader was joined by the Duke of Edinburgh as they reviewed the guards.
Xi presented to government officials, others
The Queen later presented the Chinese president to key people in the UK government. These people included Prime Minister Cameron, as well as the Home Secretary, Theresa May, and Alan Yarrow, Lord Mayor of the City of London, as well as Sir Bernard Hogan-Howe, the Metropolitan Police Commissioner.
Dissonant notes on Xi's visit
Concerning the questions of Chinese human rights, the British government has stated that it will talk to the Chinese president about the subject, however, the issue is not listed on any official agenda. Some in the government worry that even so, the topic will likely be raised in public by the new Labour Party leader, Jeremy Corbyn.
Despite grumblings by political opponents, Xi Jinping visits the UK greeted by enthusiastic crowds eager to catch a glimpse of the leader of one of the most populous nations in the world.
Click to read more
and watch the video
or