Prime Minister Tsipras to back Greek bailout with Tsakalotos as finance minister
Many others expected to be reappointed to government posts for new terms.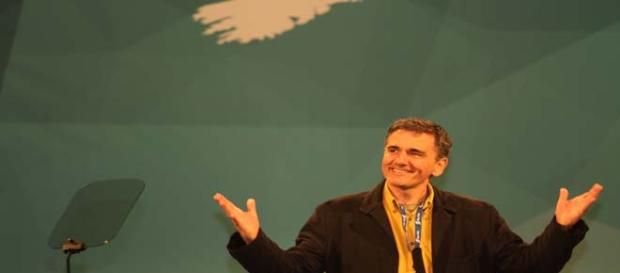 The incoming Greek finance minister will be Euclid Tsakaotos, as he is being reappointed by the Greek Prime Minister Alexis Tsipras, according to a senior source in the leftist Syriza party quoted by Reuters. This is said to be happening in order to keep continuity in the ongoing bailout talks for the country that are happening with international lenders. Syriza, led by Alexis Tsipras, has won the Greek elections once again this weekend and is now forming a new government – the second in less than a year. 
Tsakalotos, who is a known Marxist economist trained at Oxford, is the one who has already assisted in the bailout talks with the country's creditors.
The talks in August helped to define a loan accord worth 86 billion Euros.
Chouliarakis to be deputy finance minister
The current Greek finance minister, George Chouliarakis, has been acting as finance minister throughout the election campaign. He was also part of the negotiation team for the bailout negotiations, and so is suggested as the man who will be selected as the deputy finance minister, according to the same senior source.
Another person expected to be reappointed is Panos Skourletis, who would take over the energy ministry job, say Syriza sources. In the past, Skourletis has been criticized for deciding to revoke a permit for a project involving a Canadian-run gold mine located in northern Greece.
Another reappointment is probably going to be Yiannis Mouzalas as the caretaker migration minister.
Mouzalas is known to be active in the Doctors of the World charity.
Former finance minister was combative, disagreeable
Tsakalotos is considered as being quite a different personality than the previous finance minister, Yanis Varoufakis. Varoufakis resigned from the Tsipras government because he didn't agree with the July bailout. It was said that Varoufakis often upset the leaders by voicing unfavorable and tactless remarks regarding the country's creditors.
Main tasks include economy fixes, refugee issues
Once these appointments are settled, the main tasks for the Greek government will be to make sure the bailout goes as planned, as well as figure out how to deal with the ever growing refugee issue. More than 300,000 refugees who have travelled via the Mediterranean Sea to get to Europe have done so through Greece, as stated by the International Organization for Migration.
Many of the country's partners desire that Greece stop letting refugees go north towards Germany and the other European countries in that direction. This, as well as the bailout issue, is something that the incoming Greek finance minister, as well as the other new leaders, will have to overcome. #News