Parliamentary Member In Pig Head Fracas
UK Prime Minester David Cameron alleged to have inserted private part into hog in bizarre initiation ceremony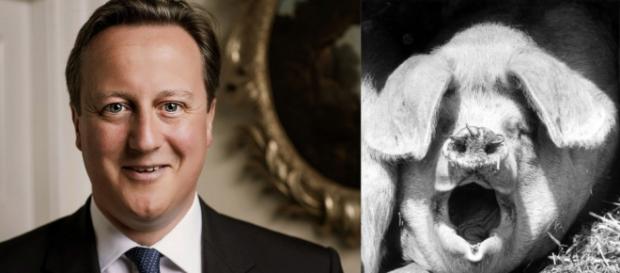 An autobiography by a disgruntled Lord Ashcroft claims that UK prime minister David Cameron inserted his penis into a pig's head as part of an initiation ceremony to the Bullingdon Club.
It's long been held that the British political system is based on what is essentially a caste system, where privilege and bravado go hand in hand in deciding future leaders.
This process of a peculiar kind of English 'hazing', whether enjoyed by the then future prime minister or not, is considered somewhat at odds to certain progressive ideas claimed to be held by the country's leader.
According to journalist James Delingpole "a friend from university also said Cameron smoked cannabis with him occasionally while listening to Supertramp as part of a group called the Flam Club."
Whilst smoking cannabis may still be illegal in the UK, while being freely available over nearly half of the USA - a country the UK considers somewhat politically retarded - sexual intimacy with deceased animals is not currently prohibited under any bylaws in the seat of the empire.
Lord Ashcroft admitted to being upset at not being given a prestigious job after donating millions to the Conservative party, and other sources are remaining tight-lipped over further allegations that Chancellor of the Exchequor George Osbourne and Home Office minister Iain Duncan Smith are founding members of a cock fighting club in Milton Keynes.
Acknowledging that the story appeared in a spite-filled book about the life of an hereditary peer, the otherwise far right wing Daily Mail newpaper ran the story in an apparent attempt to discredit the prime minister, who was trying to ease himself into a comfortable second term in office.
The Royal Society for the Prevention of Cruelty to Animals (RSPCA) have refused to comment on whether cranial intercourse is a litigational matter, whether the alleged victim is alive or not.
Cameron's wife, breaking from a luncheon with The Sun journalist Katy Hopkins and violent television personality Jeremy Clarkson was rumoured to be 'too distressed to comment'.