London: bed under the stairs on offer for $750 a month
A flatshare in south west London is offering an under-stairs storage cupboard for $750 a month.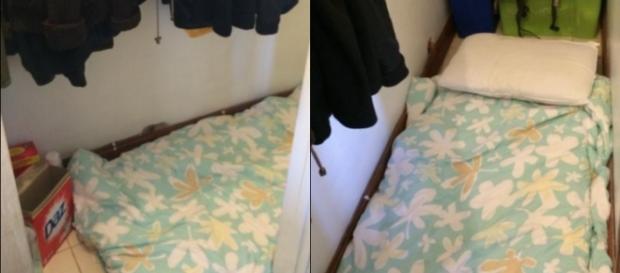 A flat hunt in London for a young professional can be demoralizing at the best of times. But consider going to view a room in a flat to find out that you are being offered a mattress in a cupboard under the stairs. And then imagine the landlord wants to charge you $750 (£500) a month, plus bills. 
That is exactly what happened to Alex Lomax, 23, from Nottingham, U.K. when she went to view a flatshare in Clapham, south west London, earlier today. Using the hashtag #privetdrive, Ms Lomax tweeted about the under-the-stairs bedroom which would be fit for an orphaned wizard boy living with his evil aunt and uncle. 
In true British fashion, Ms Lomax failed to give the landlord a piece of her mind, telling the BBC: "I wish I'd been more angry because it's clearly ridiculous" adding that she "just wanted to get out of there."
Much like the rental prices in New York, the price of accommodation in London are notoriously high, with flats in the British capital often best suited for high earners.
Even flats located far from the city center come with a disproportionately expensive monthly rent compared with rent prices elsewhere in the UK. A tenant living in London can expect to fork out around $2,250 (£1500) a month in rent. 
Earlier this year, a billboard campaign was launched by londonischanging.org to highlight the difficulties facing renters in London. Billboards placed around the city exhibited quotes from ordinary Londoners who felt like they were being priced out of the city where they lived and worked. 
One billboard read: "My wife and I have decent jobs and well above average salaries and yet we can't afford to live in the city where we work," said a CEO who relocated to the rural county of Surrey. 
A GP planning to move from London to the North of England said: "I am desperately sorry for the generation below me who will have even less of an opportunity to live in this amazing city."
London offers many university graduates and young professionals opportunities to find work in a center of culture unrivaled by many other UK cities. However, one worker in the creative industries bemoaned the difficulties of being creative in the capital: "What creativity can there be when only money can buy you your next opportunity?"
Click to read more
and watch the video
or