Indonesia Earthquake Hits with 6.6 Magnitude
Strong quake has residents and tourists fleeing into the streets in panic.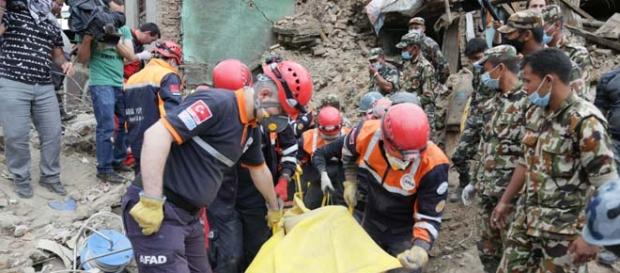 Dozens were injured Friday when another Indonesia earthquake hit in the eastern part of the country with a magnitude of 6.6 at 15:53 GMT. No deaths have been reported. The quake struck in the waters near the remote sections of the country's eastern region, panicking hundreds of locals and damaging more than 200 homes, several hotels and a hospital. The area is popular for diving and tourists.
Quake Centered in Waters Off Eastern Coast
Local officials said there was no expectations of a tsunami being caused by this Indonesia earthquake. The quake was centered 28 kilometers or 17 miles north of Sorong at a depth of 24 kilometers or 15 miles, according to the US Geological Survey website.
Indonesia is very susceptible to earthquakes since it is located inside the Pacific Ring of Fire, which is an area full of volcanoes and fault lines inside the Pacific Basin.
Indonesia Quake Causes Panic for Hundreds Of Kilometers
The majority of the injuries were from broken bones or other less serious issues. The people's panic regarding the Indonesia earthquake stretched to Manokwari city, which is 315 kilometers or 195 miles, west of the epicenter. Hotels were evacuated as well as people in a hospital with their IVs still attached.
The strong quake was similarly felt by people in Raja Ampat, which is northwest of the location of the epicenter. This is an area were many divers and other visitors go because it is famous for its beautiful islands and variety of colorful tropical fish and coral.
One of the hotel managers reported cracks in the walls, but there are no reports of injuries, in part due to the fact that it is low season and there are few visitors.
Quake Felt For Several Seconds by Residents, Others
It was reported by residents and visitors in Sorang that the earthquake lasted for at least 15 seconds of movement. People were reported to have run outside of buildings in fear of being crushed by debris.
This Indonesia earthquake is yet another strong quake that has hit the area this year, as previously one hit in Nepal causing massive damage, injuries and even deaths when a massive 7.8 quake caused not only initial problems, but other issues resulting from aftershocks that were 5.0 magnitude and above.
Click to read more
and watch the video
or