Afghan counterattack, US airstrikes launched to retake Kunduz from Taliban
Rate this title
Afghan President Ashraf Ghani vows to retake the city and asks for civilians to have faith in military.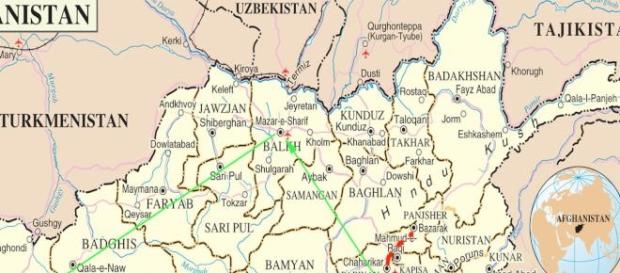 An Afghan counterattack against Taliban fighters was launched Tuesday along with an accompanying US airstrike to help retake Kunduz, a city in the north of Afghanistan. Kunduz is the capital of Kunduz province, and is a rich area of trade, as the main route to Tajikistan goes through the province of Kunduz.
US and NATO spokesman, Col. Brian Tribus, said the US made the airstrike to get rid of the treat to the force and that there were no US or NATO personnel in the city when the strike was made.
Heavy fighting still going on before, during Afghan counterattack
Afghan officials reported that heavy fighting had been going on in Kunduz during the Taliban attacks, and that electricity and phones were off in the majority of the city.
The Taliban were conducting several attacks all around the city, overrunning some government offices, as well as freeing hundreds of prisoners from the local prison, many of them Talibfan.
A Taliban spokesman said that one reason they attacked Kunduz was to show their group was still united since a new leader had been appointed in July, which made several in the group angry.
Hundreds injured, 16 civilians killed during fighting
The Taliban fighters announced to the Kunduz residents that the Afghan fighters should admit their defeat and that the local residents shouldn't worry about their lives or properties. Even so, it was reported that 170 civilians were injured, including 16 being killed, and that the local Doctors Without Borders was treating over a hundred people on Monday.
Afghans regain some city areas as other groups leave Kunduz
However, after the Afghan counterattack and the US airstrike, Defense Ministry reported that several operations had been part of the Afghan counterattack, and that they had operated on more than one front.
They announced that the prison and police department headquarters were now back in government control.
It was also reported by several News agencies that the government's forces were at the airport in Kunduz. The International Red Cross also managed to evacuate two of their three international staff out of Kunduz, as well as evacuating the UN office there. The Interior Ministry announced that they planned to clear the entire city of the Taliban militants. According to reports, one area already secured during the Afghan counterattack includes the Zir Dawra neighborhood.
Click to read more
and watch the video
or