British artist Banksy opens Dismaland: The Bemusment Park in UK on Aug. 22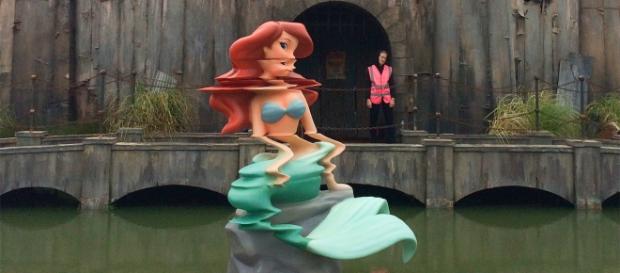 From an abandoned, rickety Cinderella castle to Willy leaping out of a toilet, Banksy and 58 other artists thought of it all, contorting and satirizing old amusement park stereotypes into surprisingly dark themes. Though Dismaland was "designed to disappoint", the UK and the US are buzzing about the crazy art with controversial meanings that ooze Banksy's signature style. Photographer Jobson states in Hyperallergenic's take on Dismaland, "What's so exciting about this show is the variety of voices. Of course Banksy has a few pieces on view that will receive a lot of attention — and deservedly so — but for Dismaland he wanted to create an environment where lots of other artworks in several different mediums could be shown across three gallery spaces.
He's using the international focus on his work to get people here, and then showing them an entirely unexpected world of art." 
A distorted statue of Ariel is at the center of the park, setting the tone for the rest It has been noted by visitors that though her statue is distorted as if in water, her reflection in the pond is normal. Depressed, dismal, and very real employees are scattered throughout the park, often carrying black balloons that state, "I am an imbecile". A white square with a "selfie hole" stands in the middle of the park, making an ironic statement about a conventional carnival trite. Tiny boats full of dolls that appear to be immigrants float down a murky stream. Spray painted silhouettes pop up around every corner, telling different strange stories.
The surprising and often creepy exhibitions churn the stomach, as well as the mind, referring to social and environmental issues.
The Dismaland website states its purpose clearly below its creepy, rain-dripped play on the Disney logo: "A festival of art, amusments, and entry level anarchism." As a further testament to the humor of the designers of Dismaland, the fine print at the bottom of the home page lists these restrictions: "spray paint, marker pens, knives and legal representatives of the Walt Disney Corporation". Their website is the only place to buy legitimate tickets to the depressing bemusement park.
Click to read more
and watch the video
or