Henrique Capriles: 'If oil price continues to fall it will be a tragedy' for Venezuela
The governor of Miranda, a state in Venezuela, says the country is not shielded from an oil crash.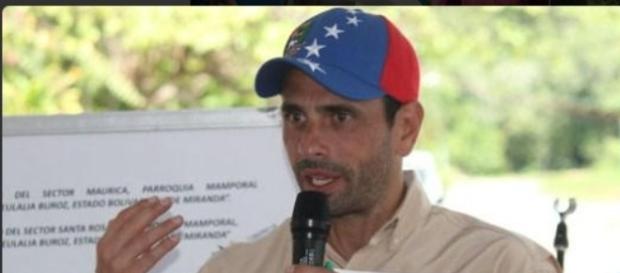 Henrique Capriles, governor of Miranda – a state in Venezuela – said that as a product of the "black Monday," the price of Venezuelan oil barrel price should be between $35 and $36. "I do not mean to cause alarm. It is not true what the government says that if oil reaches zero dollars they are shielded," he affirmed. "That is another lie of the government. If oil price continues to fall it will be a tragedy," he continued.
Capriles, who is one of the Venezuelan government's opposition leaders, said that every dollar decline in the price of a barrel of crude means that Venezuela will miss $750 million in revenue per year. "This is very embarrassing for a country that depends on imports.
If oil price continues to lower, food shortages may be greater, because the government won't have dollars to buy products overseas," he said.
Capriles urged the national government to seek an understanding with all sectors of the country to find ways that can solve tthe deepening crisis in the country, due to lower revenue caused by the falling of the oil price – because there is too much oil and fewer countries importing it.
The opposition group asked the government to stop exploiting the situation. "We do not want social unrest. At this time, a serious and responsible government would be calling all the productive sectors. May God enlighten these gentlemen who are in the High Government and understand that the country urgently needs a national agreement to prevent protests in every corner of Venezuela."
Capriles  said  the Venezuelan government  should not be playing with the patience of the people.
"We are suffering the worst crisis in the history of Venezuela. We are entering a stage of emergency," he said from Caucagua.
The governor of Miranda, state that is side by side with Caracas, reiterated that in the current crisis, the country requires taking each problem without complexes and prejudices.
"Venezuelans who follow chavismo or those who don't are experiencing the same situation. People do not want to spend day after day in a long line just to buy milk, bread or gas. Venezuelans deserve a better standard of living," he added. Capriles said also that people are lining up to claim corpses at the morgue, from victims of violence. "Meanwhile, the government doesn't respond. Time goes by and there isn't a single word to solve all the problems we are dealing with."