Pope Francis criticizes capitalism in Bolivian address.
Pope Francis lead a devastating attack against capitalism in an address to the residents of Santa Cruz, Bolivia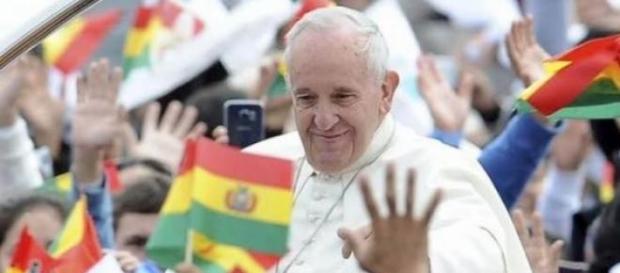 Argentina's Pope Francis, already renowned for his bluntness, lead a devastating attack against capitalism in an address to the resident's of Santa Cruz, Bolivia.

Pope Francis argued that, "Human beings and nature should not be in the money service. Let's say no to an economy based on exclusion and inequality, where money reigns supreme rather than serves the people. Our economy kills, our economy excludes, our economy destroys mother nature". 
Quoting Vasile of Caesarea, a fourth century Greek Bishop, the Pope argued:

"And behind that pain, death and destruction is the stench that Vasile from Caesarea, one of the first theologians of the Church, called the 'devil's dung', unhindered exercise of capitalism to make money.
This is the Devil's dung. "
Following in the footsteps of Pope John Paul II, Pope Francis also urged forgiveness for colonial crimes against indigenous peoples during the conquest of America, but criticized the "new colonialism", which is exercised through creditors, corporations, free trade treaties, and 'require' austerity measures which always adversely effect those most impoverished."
An ardent environmentalist, Pope Francis said that the Earth has been robbed. "Cowardice in defense is a serious sin," he said, lambasting recent international summits on climate change for their lack of results.
Back home in Latin America, the Pope renewed his criticisms of capitalism, arguing that it is a primary cause of earthly injustice and climate change. Pope Francis seems to be calling for a social revolution. 
"This is not the frequent classical theology, it is rather his clamor from the top of the mountain," said Stephen Schneck, Director of the Study of Policies and Catholic Studies Institute, at the American Catholic University in Washington.
The last Pope who had the audacity to place global problems at the heart of his mission, was Pope John Paul II, who in the 1980s, pushed the Church to confront what many saw as a challenge of that era; Communism.
Popular leftism, is growing in countries, such as Spain, Italy and Greece, who are marred by economic crises. It is clear that in the contemporary moment, the voice of the unpredictable Pope Francis is not a lone shout in the desert, but a strong voice that can provide leadership to an increasingly decisive Catholic community. #News