Ice vendor claims 120 lives in bombing In Iraq
An ISIS attack left 160 injured and a large crater in the middle of the street.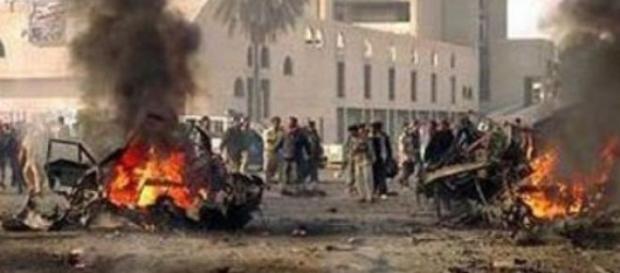 A suicide bomber appearing to be an ice merchant claimed 120 lives on Friday, luring victims to his truck by assuring comfort from the blistering summer heat of Iraq with cheap ice. ISIS later took responsibility for this deadly attack with a post on Twitter. It happened in Khan Bani Saad, a mainly Shiite community 35 kilometers (21 miles) north of Baghdad, the Iraqi capital.
There was a large crowd of people in the open air market on the night before Eid-al Fitr, a muslim holiday celebrating the end of Ramadan. Two police officials claim that the bomber went to the middle of the market and declared that he was selling ice, and he was providing a discount because of this holiday.
The sun had gone down at this time, but the temperature was still at 35 degrees Celsius. This offer of cheap ice in the scorching summer heat lured in more people to the truck, leading to their deaths.
There was ice visible in the truck, making the vendor appear very legitimate, but police say that there was at least one ton of explosives hidden under the ice. Videos posted on social media showed a lot of death and destruction. There was a large fire, as well as many bodies and debris all around.
The death count of this attack was 120 according to Muthana al-Tamimi, the governor of the Diyala province of Iraq, but with 160 left injured in this attack, that number can definitely rise.
Witnesses describe that men quickly emptied boxes of tomatoes and other vegetables so that they could be used to carry the bodies of the injured and killed children that were victimized in this malicious attack.
The bodies of adult victims were left scattered around the scene, waiting for medical assistance.
The daylight in Saturday uncovered a large crater in the street where the vehicle exploded. Several multistory buildings have also been heavily damaged. Sayif Ali, a Diyala province resident says, "This is the first day of Eid. Hundreds of people got killed, many injured, and we are still searching for more bodies."
Click to read more
and watch the video
or