'Dragon Ball Xenoverse 2' on Nintendo Switch comes with exclusive features
Switch port with motion sensors, three new features and more are coming along with the release of 'Dragon Ball Xenoverse 2' on Switch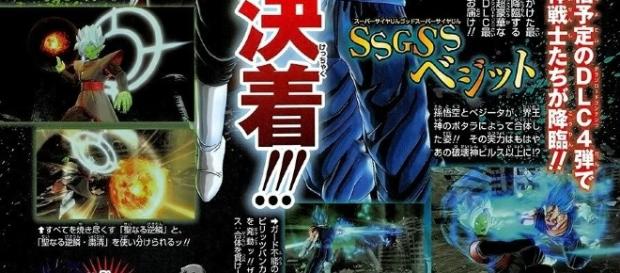 After a series of speculations, finally, Bandai Namco has confirmed that the widely played game "Dragon Ball Xenoverse 2" will be released in Nintendo Switch. The good news was published from V Jump magazine. While fans are waiting for the release of the fourth update of the game scheduled to be released this June, the game publisher has something up its sleeves for the Nintendo Switch users.
Release details
According to Bandai Namco, the game will be released on the hybrid console in Japan first this coming Fall. For the rest of the regions, the release will be announced soon. Aside from that, "Dragon Ball Xenoverse 2" on Nintendo Switch will also have the Wii-like motion controls soon.
Motion control
Motion controls will enable players to do classic moves.
It is a special attack feature, which will allow players to use the Joy-Cons to perform a Kamehameha motion to propel the attack. It can be recalled that this was last seen applied on the Wii version of the highly popular Budokai Tenkaichi installments. It was most likely the same system that was utilized on the not-so-popular game "Dragon Ball Z Kinect." These motion controls are not really new to the console since the game's ARMS utilizes it.
The motion control that will be released for the game on its new platform will be optional. So players who do not want to use it do not need to worry since they can still play the game in a standard way. It will be worth noting which option the fans will prefer using when playing the game in the hybrid console.
Exclusive features and bonuses
There are other Switch exclusive features and bonuses that will be included in the game's release on the platform. These include two new bonuses: the first one is the Time Patrol main story from the first game installment. This bonus will be offered for a limited time only. Another bonus is a code that will be found on the print copy of the game. This code will enable the player to unlock 70 characters from the full game.
Apart from those, "Dragon Ball Xenoverse 2" on Nintendo Switch will introduce three fresh system details. This includes the Ad-Hoc Co-op play, which will enable six players to play the game simultaneously while utilizing a local connection. Another new feature is the Motion Sensor that we have explained above.
The third new feature is the 1v1 that will enable players to play with a friend using the Joy-Cons on the same console.
Meanwhile, Fused Zamasu and Super Saiyan Blue Vegito are expected to be included in the next DLC Pack that will roll out on PlayStation 4, Xbox One, and PC platforms. We will update you with official details as soon as information becomes available.
Click to read more
and watch the video
or