'Dragon Ball Xenoverse 2' DLC pack 4: Super Saiyan rage trunks?
Fused Zamazu's and Blue Vegito were recently discovered from data mine as part of 'Dragon Ball Xenoverse 2's'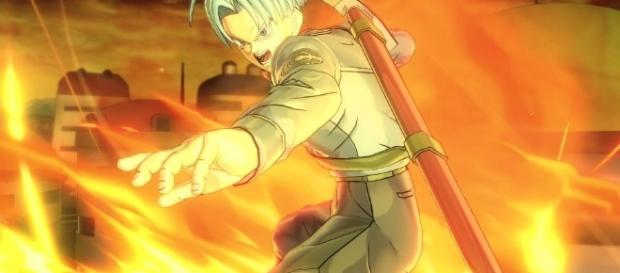 When "Dragon Ball Xenoverse 2" DLC pack 3 was rolled out, players were delighted to have new playable characters including a new set of moves and clothing. However, shortly after the third content was released, Bandai Namco announced that the next update is coming in June.
Datamined details
With the little details revealed about the upcoming update, data miners like Komodo and Karlo 202 did not waste time and looked for something useful from the third update that might help determine the content of "Dragon Ball Xenoverse 2" DLC pack 4. Among interesting data that they have uncovered are details about Blue Vegito and Fused Zamasu. While only limited details were discovered for Blue Vegito, data mine revealed more for Fused Zamasu.
This includes the heavily speculated two new super attacks called Blades of Judgement and Lightning Absolution. It was also revealed that Fused Zamasu will have a red aura and a whitish aura will be seen for other characters in their base form.
HUGE STUFF (but not 1000% confirmed yet) - HUGE thanks to Karlo202 on animegamemods for tipping me off to this. pic.twitter.com/q2Fq2kZCKZ

— コモド Komodo (@komodoxeno) April 24, 2017
Future Trunks SSR form
One of the fan-favorite characters in "Dragon Ball Xenoverse 2" is Trunks. Currently, players would like to see him in his newest form. Fans are expecting it to be included in the upcoming DLC pack 4. In the arc, Trunks is the main hero and it makes sense if developers will give him his Super Saiyan Rage form. In the game, his character version can only go as high as Super Saiyan 2 and it would really delight players if he will be given an upgrade.
Speculated content of the upcoming DLC Pack
Aside from the usual new playable characters and an upgraded character level, other things are always rolled out along with the downloadable content. Players are speculating that the next update will bring a new arena and most likely it will have the ruined city theme from the Goku Black arc. New move sets for Goku Black and Zamasu will also be useful.
Aside from those, fans are also anticipating more online content to be rolled out along with the update. It can be recalled that in the previous DLC trailer, several online tournaments were announced. Players are speculating that multiple online tournaments with varying themes would be made available with the DLC Pack 4.
Villains of the hit anime series "Dragon Ball Z" and Z Warriors are among the highly anticipated and wanted themes. Online tournaments have been very helpful to keep players engaged in the game. Parallel Quests will most likely be included in the upcoming content just like in the previous updates of "Dragon Ball Xenoverse 2."
Click to read more
and watch the video
or