'Dragon Ball Xenoverse 2 DLC Pack 4' SSR Trunks teased, more details revealed
The next downloadable content for 'Dragon Ball Xenoverse 2' is coming in June, Bandai recently teased on a Trunks new form.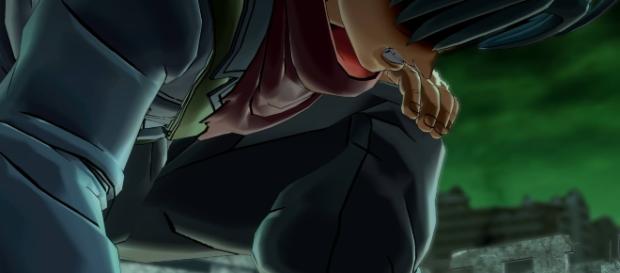 While Nintendo Switch users are waiting for the release of the game in their hybrid consoles, Bandai Namco Entertainment released images that tease the content of "Dragon Ball Xenoverse 2" DLC Pack 4. Aside from that a scan from V-Jump magazine also surfaced more info about the content of the highly anticipated DLC.
Possible content of the DLC pack 4
The scanned image revealed that the fourth downloadable content of "Dragon Ball Xenoverse 2" will have a new story mode episodes that will introduce the Futures Trunks Saga from the widely popular anime series, "Dragon Ball Super." Fans can expect the Supervillain Goku Black and Supervillain Zamasu to be among the playable characters that they will soon battle against once the content has been rolled out.
Another feature that fans should look forward that was officially confirmed is the Lighting Absolution attack of Fused Zamasu. As a general knowledge, this attack is made up of purple lightning discharges that the character hurls at his opponent. Moreover, the character will also have an attack that resembles the sun's energy contained inside a sphere known as the Holy Wrath. Apart from that, SSGS Vegito will also be a playable character and will be equipped with Spirit Sword Attack.
Trunks' new form?
This latest information is still lacking. To make it even better, Bandai Namco posted on its official Facebook page several photos of the content of the fourth DLC. One interesting image is that of Vegeta's son, the half-Saiyan Trunks. Several fans posted their comments claiming that the game publisher is hinting on the arrival of Trunks' new form, the Super Saiyan Rage.
To make things even better, it looks like the publisher is also teasing the mysterious Super Saiyan Rage form of Trunks. While it was not revealed in the photo, fans are really looking forward that this will be included in the update that will be released in June. Aside from that, gamers are also expecting that this new form will also be released equipped with new movesets just like that of Fused Zamasu.
Release date and other details
"Dragon Ball Xenoverse 2" DLC pack 4 will be released in June 2017. While the waiting time is just several days away, fans can expect more leaks and information to surface online. Aside from new characters, new moves, as well as new attires, are also anticipated to be part of the final downloadable content. We will publish more update as soon as official information become available.