'Dragon Ball Xenoverse 2' DLC pack 4: SSB Vegito, fused Zamasu & Future Trunks
The third DLC pack of 'Dragon Ball Xenoverse 2' rolled out today and DLC pack 4 has been confirmed by Bandai with a new teaser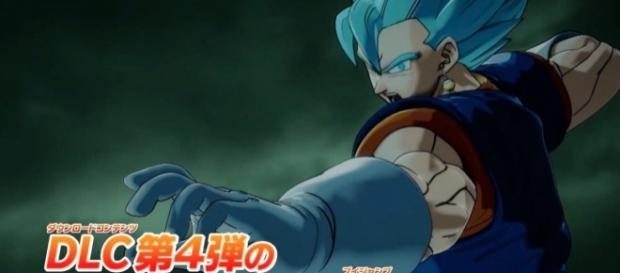 Today the highly anticipated "Dragon Ball Xenoverse 2" DLC Pack 3 has been officially released. Along with the free content, the new downloadable content will surely give more action and excitement in the game. Earlier today, reports are rife that Bandai Namco has officially confirmed that DLC Pack 4 is inbound.
DLC Pack 4
A teaser about Super Saiyan Blue Vegito is hitting the web right now reportedly suggesting what the next DLC will be about. Bandai Namco Entertainment has recently confirmed the fourth downloadable content of "Dragon Ball Xenoverse 2". While information about the game's next DLC is included in the Season Pass, it failed to reveal specifics about the release date and the contents of the DLC.
Data miners, of course, will not let this go unscathed. Since there are available data that can be mined, Karlo 202 and Komodo, popular data miners shared information from their discovery- among the gold mine are valuable information about the game's playable characters namely, Vegito Blue and Fused Zamasu.
New playable characters
Bandai Namco Entertainment has previously confirmed Vegito Blue or Super Saiyan Blue Vegito. Actually as early as DLC 2 release, that name keeps popping up in several news articles about the game. Noticeably, a new term came out from the recent data mine--Fused Zamasu.
With Blue Vegito, new moveset was revealed as his skill name abbreviations in the data files unmatched the names Vegito or Super Saiyan Vegito. On the other hand, Fused Zamasu is a different story.
The data miners discovered data lists suggesting Blades of Judgement and Lightning Absolution purportedly referring to two super attacks. Another attack called Holy Wrath was discovered listed as an ultimate attack.
Apart from those, the data pack also revealed that Fused Zamasu would have a red aura. It is worth noting that this is the same aura that the character exudes in his fused form. Most likely, a whitish aura in base form will also be seen in the upcoming update.
Future Trunks
Apart from the two new playable characters discovered from the date mine, several reports claim that Future Trunks Saga will be in the next DLC 4 Story Mode. According to some speculations, the Future Trunks Saga will be added in the same manner that Champa and Vados were added in the game.
"Dragon Ball Xenoverse 2" is available for PlayStation 4, Xbox One, and PC platforms. We will update more about this topic as soon as information becomes available.
Click to read more
and watch the video
or