'Cladun Returns: This is Sengoku.' update: PC Steam download for North America
The pixel hack-and-slash game that everyone is talking about will be returning with another focal point in history with new additions.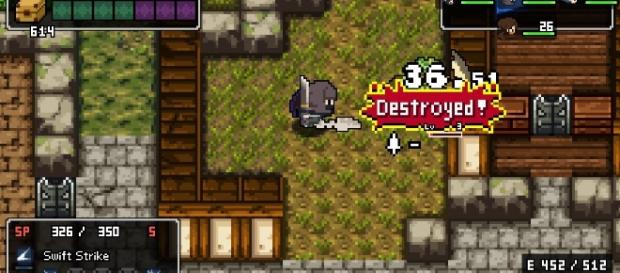 "Cladun Returns: This is Sengoku!" will be available for download on Steam on June 9, Nis America announced. The 8-bit game is something new that immerses players in the olden times of the Sengoku era, which dates back to the feudal era in Japan. The most eye-catching things about this game are the pixel and 2D interface. These two aspects are the most notable and make the game unique among other RPGs. In addition, the said title is already available on PS Vita and PlayStation 4.
Thankfully, NIS America ported it to the PC as well.
Remembering the pixel games that seem to be forgotten now, "Cladun Returns: This is Sengoku!" will rekindle the lost bonds and love of 2D and pixel interface in an RPG genre game.
What to expect in the game
Numerous items and features are added in the game, including the weapons that are equipped during battle. Among the known weapons from previous "Cladun" titles, the additional weapons are the following: the shurikens, katana, spear, bow, staff, dagger, sickle, and hammer. Job classes are tweaked as well with Saint, Magician, Swordsman, Vile Priest, Samurai, and much more to choose from.
Planning well for a perfect magic circle
Magic circles are important because this is the main structure of the characters that players will be using in "Cladun Returns: This is Sengoku!" Moreover, victory is at hand for those who choose the perfect magic circle in line with the characters' strengths and levels. This is an RPG, thus, dungeons are not left out. Players can explore 99 floors on one dungeon that are packed with several traps and enemies.
The freedom of customization
The good thing about this game is the customization option. Players can customize their own characters through the "Pixel editing" option. Not only that but also equipment and weapons. Most of all, there is an option for players to battle with others or team up with them to complete a dungeon. Otherwise, teaming up is necessary when it comes to leveling up and gathering items for strengthening. "Co-op Mode" and "Versus Mode" are two options that will never be ignored. As fun as the multiplayer option is, this is a perfect way to establish friendship in "Cladun Returns: This is Sengoku!" Players will just have to wait until the game will be available on the PC through Steam download. The trailer that was just released recently by NIS America can be viewed below:
Click to read more
and watch the video
or