Tarantino's 'Reservoir Dogs' recast as time traveling goons in film's new game
Rate this title
'Bloody Days' is nothing at all like the film or its flunking first game of the same name.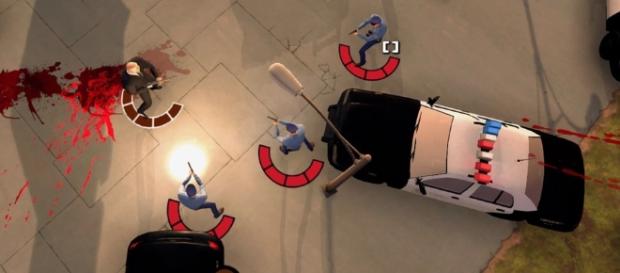 You can forget about the 2006 "Reservoir Dogs" game. This new "Reservoir Dogs: Bloody Days" Video Game is not in the same league as the first one, which was banned and rejected in Australia and New Zealand for its gory violence. "Bloody Days" launches 25 years after Quentin Tarantino's debut in 1992 and many have praised the game for its surprisingly entertaining creative appeal. If you remember the film, you will quickly see why it may not make the best video game. "Reservoir Dogs" was set in a single location and the plot quickly becomes boring as the story relies on conversations between a gang of goons after their heist goes wrong.
Time traveling black-suited Dogs
There are six strangers in "Bloody Days": Mr.
Pink, Mr. Blonde, Mr. Blue, Mr. White, Mr. Orange, and Mr. Brown. The game developer, this time Big Star Games, turned the otherwise unappealing story into a bit of a time travel. Players get to rewind and replay the scene, which affects the balance in their strategically planned heist. As the black-suited Dogs, who in the film never actually got acquainted prior to the robbery, you're working with complete strangers, as it was in the film.
"We think that it's a fresh angle in 2017 to a movie that was done 25 years ago," said Big Star Games CEO Liam Patten at the GDC meeting this year. His team worked on the project with the rights to the "Reservoir Dogs" license only, and not to the actors' likenesses. This, in turn, created characters that looked completely different from the ones in the original movie.
Players "must utilise the strengths of each squad member" to be able to complete the mission, explained Patten. Every move and every shot creates "a butterfly effect on the overall outcomes."
Still violent, still enemies
As a time traveling goon, your character gets to do many things that the original cast in the film weren't able to do. The time rewind play and the time back mechanic allows players to stick to their strategy and fix what went wrong. The game is still violent, and there's a lot of blood on the screen as the characters move from scene to scene along the time narrative. The game is already available in certain regions on Steam, and its Xbox One release is scheduled for later this year. Big Star Games is teaming up with entertainment media company Lionsgate for the upcoming release.
Click to read more
and watch the video
or