NES Classic Edition Amazon price hike alarms launch day hopefuls
Online listing appears to have glitched upon console release, spawning rumors of higher cost due to shortage.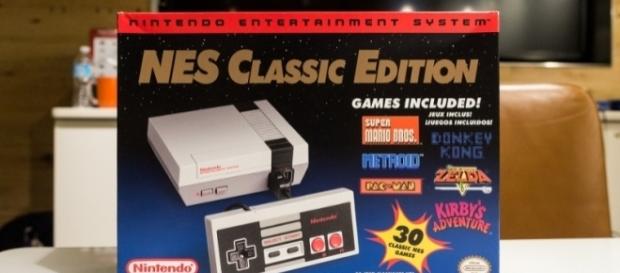 One of the most long-awaited consoles of this year might surprise you. The NES Classic Edition mini console has rivaled the hype over the PlayStation 4 Pro and Xbox One S. Now that its been officially released, Amazon's listing appears to have glitched. Nintendo's original price for the tiny box full of nostalgia was supposed to be $59.99, and it actually still is. However, Amazon has the miniature console listed at $599.00, nearly one thousand percent as much. If you click on the listing, it brings you to a page where the image is still that of the console, but the headline changes to the controller, listed for $249.00.
Nintendo's own website still advertises the console and controller for the original price
The set price for the console is still a penny short of $60.00, and the controller is still at $9.99.
It's unknown what happened on Amazon, and the reviews are reflecting this radical change. Obviously many of the reviews are from unhappy consumers who had hoped to grab a console the day it released, only to find what appeared to be a shortage-fed price hike.
The official word is that Amazon will begin selling the NES Classic Edition at 2 p.m. today, Pacific Time, according to Polygon. It could be that the glitched listing is intentional, staving off those who are hoping to get it early. This is doubtful, because according to the launch day reviews, which have brought the rating down from about 5 stars to a disappointing 2, the false price is driving consumers away.
Other retailers are admitting it's sold out at the right price
Best Buy, GameStop, Target, and WalMart all have the miniature console listed at regular price with a note that it's sold out.
Toys 'R' Us doesn't even have a listing, despite Nintendo's website linking to them. Nintendo is hoping to bring production up to speed and not make their little box of nostalgia another Amiibo story.
The Nintendo Entertainment System: NES Classic Edition system is a hot item, and we are working hard to keep up with consumer demand. 1/3

— Nintendo of America (@NintendoAmerica) November 11, 2016
There will be a steady flow of additional systems through the holiday shopping season and into the new year. 2/3

— Nintendo of America (@NintendoAmerica) November 11, 2016
Please contact your local retailers to check availability. A selection of participating retailers can be found @ https://t.co/rMbd6Wacpi 3/3

— Nintendo of America (@NintendoAmerica) November 11, 2016
There is still no explanation for Amazon's listing at this time, since it was fine yesterday and listed the correct price. At this point, Amazon is reportedly the only alternative to grabbing a console when they release it at 2 p.m. today. Just watch the price before you buy it, because something isn't right.