Hello Kitty® is getting into the holiday spirit digitally
The brand is releasing an Advent calendar countdown to Christmas app for Android and iOS.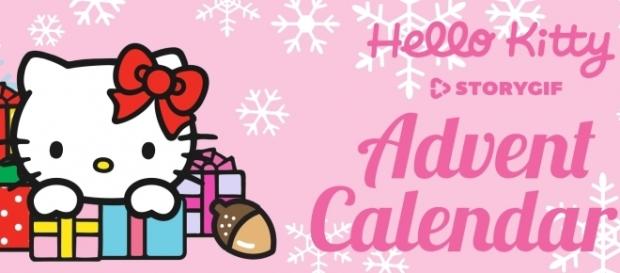 The countdown to cute starts December 1st when Hello Kitty is putting a new spin on an old tradition with its latest app release by Berlin-based Zoobe Messenger Entertainment. On sale now, the Hello Kitty StoryGIF app Advent calendar is available on both Android for $.79 and iOS for $.99. Now Hello Kitty fans can share in the countdown to Christmas by unlocking a new animation daily for free from December 1st to 25th just like a traditional Advent calendar. Fans also have the choice of purchasing the whole bundle at once to share the holiday spirit immediately with friends and family.
Historically speaking
Advent calendars have been a tradition since about the early 1900's; serving as a countdown to Christmas. In years past, they have been made of paper and/or cardboard with little windows or doors that represent each day with a special picture, message or chocolate revealed inside when opened.
This new StoryGIF Advent calendar hopes to give those in the holiday spirit the same effect digitally.
Pros
This messenger app is super easy to use, and the animations are adorable. Go "Kitty" in three easy steps: 1. Choose GIFs, 2. Compose Story, 3. Send. What is also a plus is that you can tile together up to 10 animations on any one message. Ho! Ho! Ho! The app is flexible and can be used both as an iMessage extension, and also stands alone from the home screen.
The app is also bargain priced, and if you go back daily, you can end up unlocking 25 adorable images all for free. Or if you're one of those folks, like me, who just can't wait, download all 25 at once.
Cons
Zoobe likes to refer to their quick-text GIF stories as snack-sized treats that bring characters people know and love to life in a whole new way, with playful story-telling via expressive animations.
All true. However, the thing to really take this app to the next level would be the ability for users to actually put their own copy onto the images for true personalization.
Future communication
With the way things seem to be trending, messenger apps just may be the Ghost of Christmas Future for our society, especially for the younger generations. With this latest Hello Kitty digital release, the nice thing is that at least she's introducing a bit of an old Christmas tradition to our screen-addicted generations. Not so grim afterall.