A second year for Silicon Valley Fashion Week
Fashion tech innovations amaze on-lookers at 'Silicon Valley Fashion Week?!'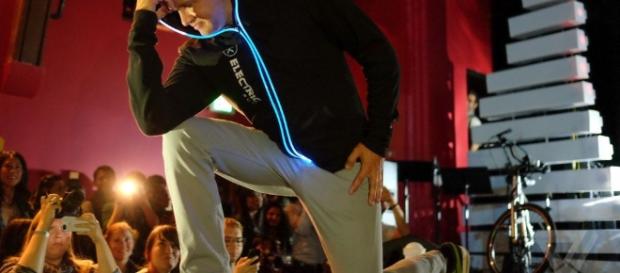 Rather than presenting the best in chic and couture as New York and London did, Silicon Valley fashion Week brought to the table unconventional and exciting pieces that fuse fashion with technology. Because Facebook, drones, Google and Apple is what pops up in mind when one hears Silicon Valley, the official name of the event ('Silicon Valley Fashion Week?!') ended with a question mark and exclamation point to capture the oddity of the idea. For a second consecutive year, San Francisco clothing company Betabrand put together a three-day fashion tech showcase that allowed audiences of roughly 500 attendees to preview a fresh collection of fashion that incorporates some type of technology.
A Betabrand event sponsored by Zappos
The Las Vegas shoe and clothing e-store Zappos sponsored the event, which kicked off October 20 in San Francisco on Market Street.
The company graced attendees' presence with a dressed-to-impress llama, matching the event's other-worldly theme. According to news outlets such as the New York Times, the weekend featured a line-up of musical performances and fascinating demonstrations. Thanks to Adobe, organizer of the affair Mustafa Khan engaged in a dialogue with a computerized creature about Khan's personal style to send laughs through the crowd. The hosting company Betabrand presented innovative fashion pieces like the dress that glows up for a 'girls night out' and also blends in as daytime wear. Surprisingly, Betabrand has sold over a hundred replicas of the recently released item.
Versatile fashion
The brand has become popular for introducing transitional clothing, but first their items, created by designers around the globe, have to gain approval from potential customers then get monetary contributions from many of them to go into production.
One of the brand's outstanding new items is the 'dress pant yoga pant,' trousers made of material that makes it an appropriate garment for the working woman leaving the office and heading straight to a yoga session afterward. The company has become popular for 'poo-emoji' apparel on which the small emojis make a button down shirt or a lovely party dress seem like a colorful, fashionable garment when standing from afar.
Silicon Valley Fashion Week 2016 #SVFW - Cheeky Over Chic by @anthilemoon https://t.co/itfHuPJeda #FashionTech pic.twitter.com/qNbzpPZ3uv

— Marija Butkovic (@MarijaButkovic) November 1, 2016
A modern aesthetic
Betabrand shared the spotlight with more than 20 other brands presenting accessories and apparel that required something extra for the audience to see its full beauty. Along with drones that carried pieces down the catwalk, Switch Embassy showed off its 'TshirtOS,' a simple tee able to display lit-up messages and patterns with the help of an app. Head accessories were a big deal as Dilek Sezen added to the mix a spike number that reflected the colors purple, blue and pink when hit with a black light.
For the fashionista who's also a tech enthusiast
Alison Lewis, who earned her master's in design and technology at Parsons School of Design, drew major attention with her LED lit dress that flashed lights to the rhythm of its model's pulsating heart-thumps. Tinsel, a jewelry tech company, revealed the Dipper necklace which turns into stylish neck candy when cleverly used as a hide-away for earbuds. Zappos also brought out a huge robot that operated like a prize machine usually seen in game rooms but instead allowed actual participants to fish for their own prizes. Some of the featured products are available for purchase.
Click to read more
and watch the video
or