U.S. Army trading gas for fuel-cell powered utility truck
Said to be the first zero-emission utility vehicle of its kind that uses hydrogen fuel cell tech as its means of propulsion.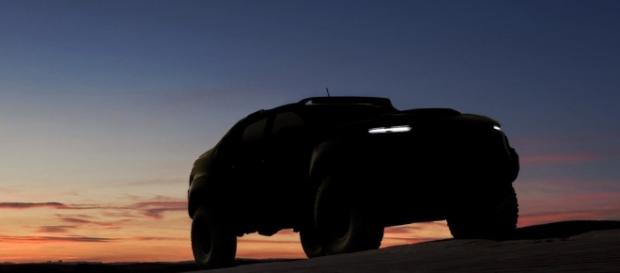 For decades the US Army relied on the Jeep as its general, all-purpose utility vehicle of choice. Then, in the 1980s the Jeep was phased out for the more heavy-duty Humvee. The former utilized CO2-emitting lead-based gasoline as its power source and the latter proved itself a gas guzzler. But General Motors is now at work on what's said to be the first zero-emission utility vehicle of its kind that uses hydrogen fuel cell tech as its means of propulsion.
Real- world military situations
General Motors and the U.S. Army Tank Automotive Research, Development and Engineering Center have teamed up on the green energy-fueled Colorado ZH2 four-wheel drive, all-terrain truck to initially determine its viability in what the Army refers to as "real-world military situations." While the design of the ZH2 is based on the Chevy Colorado mid-sized pickup truck, its new reinforced frame is unique to the demands of military usage.
The vehicle's engine compartment has also been modified to incorporate the hydrogen fuel cell-based power-train.
Advantages of hydrogen fuel cell tech
According to TARDEC, the advantages of hydrogen fuel cell tech over that of traditional gasoline power are as follows:
Quiet, if not stealthy mobility
Up to 50 kW exportable power generation, which means the fuel cell can provide power for troops on the ground and their encampments.
Low end and high wheel torque at all speeds for high capacity pulling and towing power
Water generation which is a benefit in desert environments
A new generation of stealthy military-grade utility vehicle
All this combines to create a new generation military-grade utility vehicle that not only runs silent and in some cases, undetectable to human surveillance, but that provides direct power-house support for a multitude of troops and their field equipment.
A distinct plus during missions in remote, off-the grid areas and/or territory ravaged by natural or man-made disaster.   
Fuel cell tech to go mainstream
TARDEC Director Paul Rogers claims that hydrogen fuel cells as a power source have the potential to bring to the U.S. military valuable capabilities that it might not otherwise enjoy. Not only does the vehicle run quietly, but it provides electricity generation for needs beyond the vehicle. GM's executive director for the firm's Global Fuel Cell Activities, Charlie Freese, points to the ZH2 truck's development as yet another example of how fuel cell propulsion is now playing an active role in non-traditional applications. He further states that GM plans on introducing fuel cell tech to the mainstream commercial arena by 2020. It's interesting to note that the U.S. Navy is currently testing hydrogen fuel cells for their newest generation of unmanned submarine, which means it's not inconceivable that subs and the new Colorado ZH2 fuel cell truck can exchange parts. The Army plans on field testing the new vehicle for assessment for the entirety of 2017.
Click to read more
and watch the video
or