Newly released data shows that chip cards are slow to be accepted by stores and digital fraud is rising.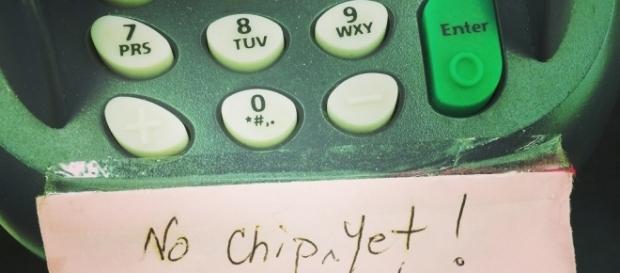 Jack Dorsey, CEO of Twitter, doesn't need more problems. But he has one on the payments side of his career as the EMV chip card continues its rocky introduction for U.S. consumers and merchants. And to make matters worse, the cost of digital theft is going up, based on new data released at a major financial technology conference in Las Vegas this week. Dorsey, who also leads the payments company Square, spoke on Monday at the Money 20/20 Fintech gathering and he didn't mince words about the current state of the chip-enabled card. "The experience around EMV is one of hate," said Dorsey. "It's really, really slow."
A majority of merchants still don't accept chip cards
Comments and survey results delivered at the conference this week confirm that the introduction of the EMV chip card has not been greeted warmly by consumers or merchants.
Processing time at checkout continues to be slow and store owners are dragging their feet in converting to new payment terminals either because of cost or ignorance. Less than half of retail locations in the U.S. will accept chips cards by the end of this year.
But even more troubling is that since the card was introduced one year ago, fraud is shifting away from point-of-sale transactions to what is known in the industry as "card not present" where shopping is done exclusively online. Research from Vesta, a payments fraud firm, showed that digital merchants are increasing the money they must allocate to fight online fraud, spending more on both technology and people.
Have you ever had your card declined while shopping online? The Vesta report found that a staggering 30% of declined transactions were later found to have been mistakes, which is lost business for digital merchants because this high rate of "false positives" sends good customers elsewhere and costs them sales.
"Digital merchants really are in a tough spot these days," said Vesta's Tom Byrnes during a presentation at Money 20/20. "They are starting to question whether they are in the business to sell goods and services or fight fraud."
Fintech industry still looking for best payments solution
EMV chip card issues are part of a broader debate within the Fintech industry over what technology will ultimately become the gold standard for transactions. Dorsey expressed his preference for NFC or contactless cards to help speed up payment processing. He also supports greater use of digital wallets such as Apple Pay or Android Pay where smartphones seamlessly handle transactions without the need of a card at all.
But there are also growing concerns over the security of new payment technologies. According to Byrnes, his firm is seeing growing fraud issues for bank-branded digital wallets (not those issued by known vendors such as Apple or Samsung). The problem is that mobile wallets allow fraudsters to bypass EMV controls at the point of sale.
"People are using technology to defeat EMV in ways that we have not seen before," said Byrnes.
Attendees at Money 20/20 this week were given a sneak preview of a new protocol designed to strengthen chip card security. EMVCo (who creates the specifications for chip-enabled cards) announced a new standard called 3-D Secure 2.0 which increases authentication controls for online mobile purchases. It's designed to address the "card not present" fraud risk which is on the rise.
Separately, Visa and Intel announced this week that they would begin collaboration on building payment encryption directly into the chipsets of connected devices. This would hopefully protect personal payment data if a hacker breaks in to a smartphone or tablet.
However, don't look for a reduction in payment fraud anytime soon. The news from this major Fintech conference is that security will be a struggle and digital merchants will continue to fight a rising tide of fraud in 2017. If Dorsey thinks he has a problem now, the coming year could be even worse.
Click to read more
and watch the video
or