China's LeEco brings screen tech to Silicon Valley
Chinese powerhouse launches new phone and TV models for the U.S. market.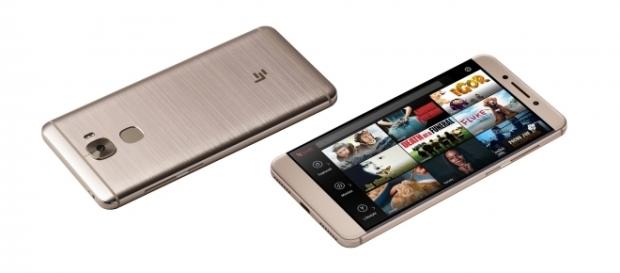 With a market cap of $13 billion, the Chinese company LeEco is not to be taken lightly. So when they staged a major launch event in San Francisco on Wednesday to announce new technology products for the U.S. market, the news had impact not just for smartphone competitors, but television manufacturers and even autonomous car makers as well.
Company seeks to build an ecosystem of consumer tech devices
LeEco (which is a Mandarin translation of "joyful ecosystem") started in 2004 as a streaming content platform. They went public in 2010 and made waves last July when they bought the TV set maker Vizio for $2 billion.
The company is committed to its concept of a technology ecosystem, with the goal to build a suite of consumer products that includes smartphones, TVs, cars, and connected sports bikes, along with streaming video content through a host of global partnerships.
"No other company in the world can do what LeEco will unveil today," said Danny Bowman, the company's chief revenue officer at the Wednesday launch. "We will take this ecosystem to the world."
What the company unveiled was two new unlocked Android-based smartphones called the LePro 3 and the Le S3 that will hit the market next month. They will be less expensive than competitors' models, with price points of $150 to $300 if you take advantage of rebates. Features include a small screen overlay to watch movies while using other functions and a battery charge boasting 33 hours of talk time.
The phones will be powered by Qualcomm's Snapdragon processor, a development that further cement's the chipset maker's hold on the smartphone market. Their processor can also be found in Samsung, HTC, and LG models, among others.
Qualcomm's CEO – Paul Jacobs – appeared on stage as well and dropped the interesting news that his company was also working with LeEco on the development of a Virtual Reality (VR) headset.
On the TV front, LeEco announced an 85-inch 4K set that will include HDR, Dolby Vision, and Harman Kardon speakers. Cost for the new TV will be as low as $4000 with rebate.
LeEco has ambitious plans for a self-driving car
Although it is still in the concept stage, an autonomous car was made available on Wednesday for viewing. Called LeSEE Pro, the development model is a self-driving electric car with a steering wheel that retracts into the dashboard, giving drivers the experience of relaxing in their living room and watching movies while their vehicle barrels down the highway.
Not everything goes smoothly when it comes to building a technology ecosystem. LeEco executives had planned to have an older model self-drive CEO YT Jia onstage, but the car wrecked on its way from Los Angeles to San Francisco, which necessitated the another version being frantically shipped from London.
LeEco is making a big bet on the self-driving car. They are funding the electric car startup Faraday Future and building a $1 billion factory in the Nevada desert at the same time. "We are seeking to attain the perfect combination of technology, cars, and the Internet," said Jia during his Wednesday presentation.
It wasn't discussed during the launch presentations, but LeEco is establishing a major presence in Silicon Valley. They recently purchased a former Yahoo facility in San Jose and have announced plans to add as many as 12,000 employees there over the next few years.
"America is the most important global market for us," said Jia. The company also disclosed that they will have a "disruptive content partnership" announcement on November 2 and display a newer production model of their car at CES (the global consumer technology trade show) in January. Successful or not, LeEco is intent on making news as they enter the competitive U.S. market and set up shop in its technology capital.
Click to read more
and watch the video
or