BMW unveils a futuristic self-balancing motorcycle
BMW unveiled a futuristic self-balancing motorcycle model that could help rider avoid road crashes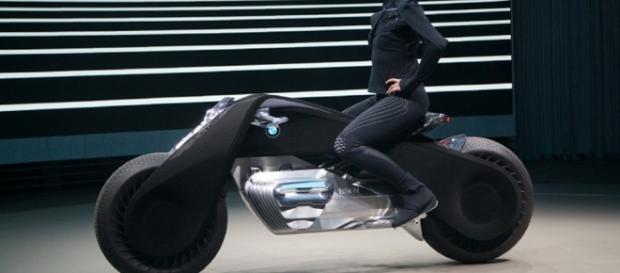 #BMW, a German company known for its luxury vehicles as well as motorcycles, is going to celebrate its 100th anniversary by revealing a new concept #motorcycle, the BMW Motorrad Vision Next 100, which is currently still in its development stage. The German automaker has just unveiled its futuristic motorcycle at the BMW Group Future Experience exhibition in Los Angeles, California.
BMW Group, which currently celebrates its 100th year anniversary of building German brand vehicles, has been busy hosting events around the world. In its 100th year anniversary, the company is looking further into the future and developing a series of Vision Vehicles to address people's mobility needs decades from now.
The futuristic BMW Motorrad Vision Next 100 is the latest incarnation of BMW's Vision Next series and the last of the company's Next 100 concept vehicles that being unveiled in celebration of the company's 100th anniversary. BMW said that the new concept motorcycle will offer a glimpse at what the company believes the motorcycle might look like decades from now. The futuristic bike will be powered by an electric motor and will have the famous shape of the BMW's flat-twin engines with the cylinders sticking out the sides.
The Futuristic Design
The concept bike features a minimalist design and enhanced with some high-quality details. Integrated into the bike's frame is a large metal reflector and the daytime running light. This acts as a wind reflector and optimises air flows, according to BMW.
The flexible frame appears as a single, integrated whole that extends from the front to the rear wheel. This allows the bike to be steered without the need for joints found on today's motorcycles. Additionally, the bike's tires smooth the ride all by themselves and have a variable thread that adjusts itself to suit different road conditions.
Other Important Features
In addition to the futuristic design, the concept bike also has an electronic safety feature that talks with other vehicles and communicates with road sensors to help avoid road crashes. Along with the concept bike, the German automaker also introduced a new set of clothes and goggles, which include a jacket with diagonal front zipper and ventilation systems.
There no need for a helmet, the goggles will keep wind and debris out of the rider's eyes while also providing the situational information and active support the rider needs. Information is displayed in the visor, which consists of a pair of glasses that span the entire field of vision. These pair of glasses are controlled by rider's eye movements. The jacket contains no extra padding and can warm or cool the rider if needed. It can also support the rider's muscles to help prevent fatigue.
For now, the BMW Motorrad Vision Next 100 is still a concept vehicle, so it's unclear how much of those features BMW showed off can actually do. It's also unknown how long before we can see an actual production model of this futuristic BMW motorcycle. #BMWVisionNext