Study.com partners with Thomas Edison State University and the Department of Education
Study.com and Thomas Edison State University work together to offer a low cost college degree via the Department of Education's EQUIP program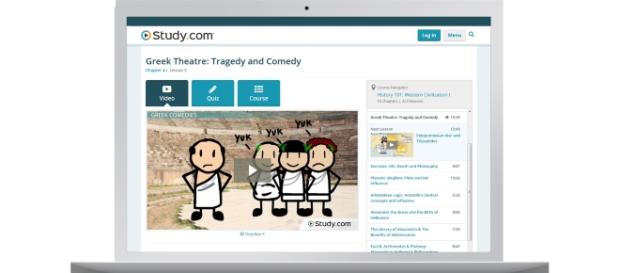 Online learning is becoming a common trend with colleges increasingly offering online classes and degree programs; MOOCs and even YouTube videos depicting actual classes at esteemed colleges such as UC Berkeley make it easy for people to be exposed to education even if they cannot afford university tuition. Study.com is one of the most visited websites that supports learning online; especially through animated instructional videos. Since its launch in 2002, the company has produced over 20,000 video lessons that reach approximately 15 million people from all across the globe every month. 
History 
Study.com is the brainchild of two Cal Poly students Adrian Ridner and Ben Wilson who saw the potential of the Internet as a means of enlightening people cost effectively.
The company's college level courses are recommended for credit by the American Council on Education and can be transferred to over 2,000 colleges and universities. The website also features helpful guidance counseling resources and teachers use the system in the curriculum or as homework.
The website is also helpful to homeschooling families.
The videos on Study.com are typically between five minutes and eight minutes long and include animation that adds a visual element to the subjects that makes them both more appealing. The courses can be accessed through a smart phone or a computer, are fully asynchronous and are customizable so each individual student can tailor their coursework to suit their exact educational needs. The company takes the teacher selection process seriously and typically only hires instructors who have advanced degrees, a lot of experience in their field, and/or prior teaching experience. Generally, instructors create the lesson content and then animators and video editors create the visuals and sound effects to go with the content. Hence, the company is always looking for people to compose quality content, animation and video editing skills.
At present many of the videos are geared to people in the middle school, high school or college range. The company is also exploring the idea of widening the course offerings in the near future.
Partnerships 
In August of 2016, Study.com announced a partnership with Thomas Edison State University (TESU) that will enable low-income students to earn the bulk of their general education requirements--at low costs--via the website. Then after completing their final courses through TESU, the students earn a full four-year degree from the accredited and acclaimed college. Moreover, Study.com was chosen for the Department of Education's EQUIP program. Though EQUIP, students who qualify for a Pell Grant will able to use those funds towards non-traditional education programs including online courses and boot camps. In many cases, low-income students will be able to earn a Bachelors degree at no cost after financial aid.
"A Bachelors degree is the key to upward mobility for low-income students, and the foundation for success in today's knowledge economy; EQUIP will help level the playing field, by giving those at an economic disadvantage access to a college education," said Adrian Ridner, CEO and Co-founder of Study.com.
"The Thomas Edison State University partnership will provide low-income students an accelerated and flexible path to a degree at little to no out-of-pocket cost. Supplementing the traditional college experience with low-cost online courses puts a college degree within reach of millions of American workers who are struggling to find a place in today's information economy. We aim to help them improve their quality of life."
Click to read more
and watch the video
or