The Korean manufacturer cites production defect, seeks to mitigate the damages from grievous error.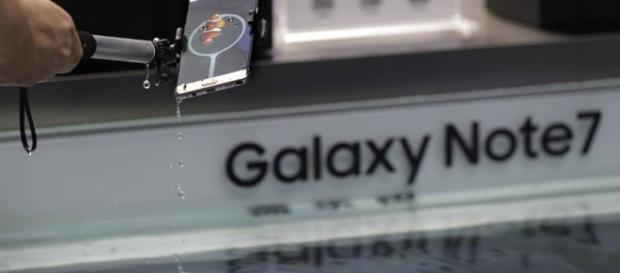 Has Samsung finally gotten to the bottom of their exploding battery problems? Preliminary findings of the investigation on the matter point to a widespread production error, according to Bloomberg. Currently, Samsung believes that the defect is forcing the negative and positive poles of the internal battery cells into contact, resulting in uncontrollable overheating. Samsung noted, however, that they will need more time to perform a more thorough analysis of the defect in question.
Samsung Has The Solution?
Meanwhile, they are suggesting a temporary fix for the issue. Though the company has urged users not to turn on their devices and issued a recall for the faulty units, Samsung announced plans for a software update for current note 7 users that may have ignored the notice.
The update, they claim, will limit the battery's charge to 60 percent, and in turn, eliminate instances of overheating. 
Samsung On The Ropes
Before the battery fracas, the Note 7 was receiving glowing reviews for its innovative design features. Now, the company has been getting hit hard in the press and losing the goodwill it had built among customers for the disastrous recall, one of the largest ever. Samsung has lost considerable market value, seeing their shares fall to their lowest point in years. They have had to deal with scathing reports of phones exploding in users hands. They have even had to pull ads for the device until they can start selling new and improved versions of the Note 7, sans exploding batteries.
The new Note 7 models are expected to roll out sometime after September 19, but it is unclear if the conciliatory gesture will be enough to restore Samsung's once sterling reputation.
On the one hand, consumers may hail them for quickly addressing the situation, admitting fault, and doing everything that they could to correct the mistake. Alternatively, the public may continue to lambast them for letting such a grievous error slip through production, and abandon faith in Samsung products. The fact that one of their affiliates, Samsung SDI Co., was the one that created the faulty batteries, does little to absolve them of guilt.
Meanwhile, Samsung's chief competitor in the smartphone market, Apple, is seeking to gain back ground. A report from CNET notes that while Apple has not released any official figures, carriers are announcing record sales for iPhone 7 and iPhone 7 plus. This blunder by Samsung could be just what Apple needs to reaffirm their dominance, should Samsung be unable to make the moves required to bounce back.
Click to read more
and watch the video
or