The best luggage scales with power bank; A problem solver for all frequent flyers
If you want to tackle two of the most annoying problems with traveling - baggage fees and running low on battery - this is the gadget for you.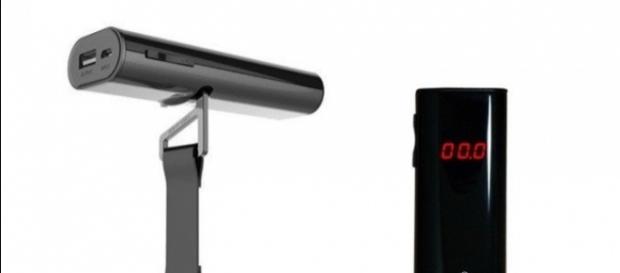 Airlines currently charge as much as $50 for a single pound of luggage overweight. The simplest solution these days lies in portable luggage scales. There are many that do the trick but, if you think about it, they are very limited in their use - how many times per year are you going to use the scale if that's its only function?
Another (perhaps bigger) problem travelers have is the lack of juice on their electronics. Smartphones and tablets seem to drain battery as fast as they can while you're waiting for your flight gate to open. And in those moments Murphy's law will kick in and you will not be able to find any power outlet available to recharge.
This has happened to all of us.
If you are a traveler like myself and want to tackle two of the most annoying problems with traveling - surprise baggage fees and running low on smartphone's battery - this is the gadget you must get: a luggage scale + rechargeable power bank combo.
Oaxis Airscale
From the many similar products available in the market, the Oaxis Airscale is the one that offers the best power capacity (6500mAh), including fast charge capability with its 2.4A output, making it useful for charging smartphones and tablets alike. The scale process works like most other hand luggage scales - a detachable strap can be hooked up to any piece of luggage. By lifting up the luggage using the scale's handle, you'll get a readout of how much it weighs.
Technical Specifications
Unit of Measurements: Kilograms (kg) / pounds (lbs)
Maximum Weigh: 40kg / 88lbs
Display Type : Easy-to-Read 3 Digits Numeric Light Display
1 x USB output
1 x micro USB input
Dimensions: 127 x 43 x 24mm/ 5″ x 1.69″ x 0.94″
Weight: 156g / 0.34 lbs
Battery: 6500mAh Li-ion polymer
Output: 5V / 2.4A
Input: 5V / 2A
Accuracy: 0.1kg / 0.2lb 
The AirScale is available for $59 on Amazon and comes only in black.
LOOP Luggage Scale
The LOOP Luggage Scale, found also on Amazon for $39.95, has a limited capacity of only 2600mAh and an output of 1.0A, making it less powerful and slower to charge your devices than the Airscale. On the up side, it has an integrated flashlight.
Tronica Powerbank
The Tronica Powerbank is a 4-in-1 device. It packs a powerbank with 2600mAh (also in this case with an output of only 1.0A), it's also a portable flashlight, a luggage scale and a temperature gauge. With an updated powerbank capacity, this would be a real competitor for the Oaxis Airscale. The Tronica Powerbank is available on Amazon as well, for $29.95.
Click to read more
and watch the video
or