States of tension, agitation and insomnia fight with an innovative neurostimulation
Launched a new App to fight forms of agitation and tension. Available for free for Android and Apple by mid-August.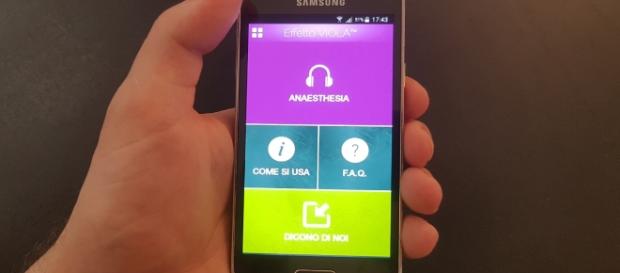 The innovative startup Effetto Viola SRLs has created a new application for Android phones / tablets, and Apple (for #Iphones available later this month). 
The application, called "Anaesthesia by Effetto Viola" is designed to provide a fast assistance against strong states of tension and agitation that may arise from everyday life. According to the scientific literature, these psychological states are at first places as the cause of insomnia or the so-called "bad sleep".
According to estimates, over 40 million Americans, because of the tight working rhythm, are affected by stress and anxiety, half of Americans say they've had a major stressful event in the past year.
This technology should be to offer support to the states generated by the lack of rest. The application will be available free of charge since mid-August.
Two scientific principles would reduce tension and agitation
The innovative production DMSPS algorithm, which improves the established technique of brainwave entrainment, and a patent for the inclusion of ultrasonic subliminal messages. A mix between the induction of particular brain-wave frequencies in the listener and the inclusion of high-frequency subliminal messages would lead, therefore, to the achievement of a state of deep calm and relaxation.
Effetto Viola technology would seem already tested and used by Olympic athletes and world-class sports. In addition the company will participate in the coming months, the International Festival of Science in Genoa, in collaboration with a highly specialized hospital.
This would seem simple operation
Simply download a copy of the application from the store and listen to special soundtracks for at least 13 minutes with their in-ear headphones. For proper use, it is absolutely recommended to read carefully the instructions before use. The listener at first will not perceive anything in particular, because the technology is hidden in Modern/POP tracks, but the effects will start arriving a few minutes after the listening period.
Downsides
The mandatory use of in-ear headphones, not always comfortable for everyone. In addition, the tracks are not many to choose from, although there is a widening of the playlist in the coming months. Finally, not all of them are fans of the genre Modern/POP (the main style of the songs within the application).
The company has made available to specific headsets, designed specifically to reach states of even more intense relaxation. Finally, a Disclaimer emphasized by manufacturers: "This technology is particularly effective on those who enjoy a high neural efficiency (athletes, creative, high-performance individuals ...)". Its effectiveness is, therefore, directly proportional to the "brain potential" of the listener.
You just have to try it. For info and details, you can visit the website: effettoviola.it
Click to read more
and watch the video
or