Ozobot: using cutting-edge technology to create interactive toys
Rate this title
Technology is the driving force behind a robotic toy known as the Ozobot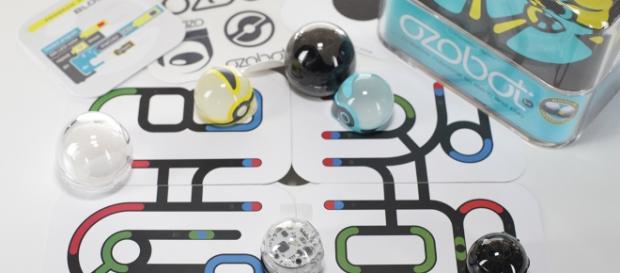 Robots are becoming increasingly popular and commonplace in most fields and the toys and games industry is no exception. From the startling realistic FurReal Friends from Hasbro to Dash and Dot Robots that code from Wonder Workshop, robotic features are making toys more innovative and engaging than ever before. Ozobot by a company called Evollve, Inc. is one of the world's smallest smart Robot toys--and also one of the most technologically impressive.
Present
The compact Ozobot melds computer science, robotics and coding in a one-inch package. Ozobot utilizes app-based programs where lines and color sequences determine the Ozobot's speed, direction, path finding, sounds and lights.
To that end, it is programmed to have the ability to follow the path made by lines. Hence, if a child draws a line--using a thick marker--the Ozobot will follow the line even if it loops in circles or is very wavy. Ozobot essentially aims to be "robotics made easy" and delivers that promise to consumers by actively engaging them in how the robot behaves by doing something as simple as drawing a line. Moreover, the tiny Ozobots are designed to look and behave like tiny pets--or robotic sidekicks. Thus these toys are quite anamorphic and, subsequently, easy bond with.
Since its launch in 2014, the company has been finding increasingly innovative ways to both amuse and educate children. "Ozobot is built around the idea that S.T.E.A.M--which stands for Science, Technology, Engineering, Art and Math--learning ensures a brighter future as well as a better learning experience," explained Nader Hamda, CEO and Founder.
"Through game applications and creative curriculums, Ozobot introduces interactive robots by blending entertainment and education in the family room as well as the classroom."
Potential 
Ozobot provides kids with both a digital and physical play experience that showcases how technology can be combined with traditional play elements in the same way that many traditional career fields can be improved via the use of technology. Ozobot is able to recognize and react to millions of different instructions and codes so it is an ideal way to teach children about the fundamentals of coding and robotics. There are currently three items on the market with more to come in the near future. "In ten years we hope that Ozobot will be a household name to educators, gamers and learners all around the world," Nader Hamda continued. "Thousands of schools around the world have already adopted Ozobot into their curriculum and students are learning sequential thinking and logical reasoning all while creating and programming their own coding concepts."
Click to read more
and watch the video
or