Pool Nation VR receives free air hockey update
New functionality to game lets you hit pucks with mallets in virtual reality.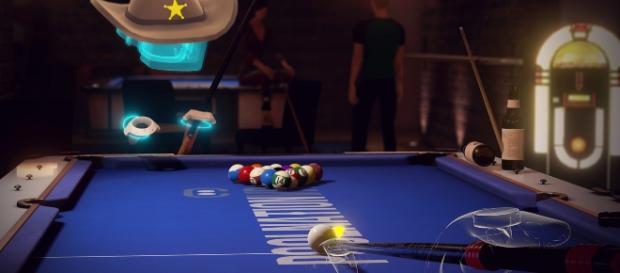 Today, Perilous Orbit and Cherry Pop Games announced a new free update to Pool Nation VR. The update adds a complete new game to the realistic billiards simulator by adding Air Hockey into the mix.
According to an email we received from Cherry Pop Games, there have also been additional dart-playing modes added to the game with this new free update. Players will now also be able to play the following dart-playing modes: 101, 301, 501, Cricket, and freeplay for when you're not feeling competitive and just want to relax.
You can check out the new Air Hockey mode for Pool Nation VR in the attached trailer right here:
Unlike in other pool simulators, players are able to interact with the environment by making trick-shots with objects that are within the game such as plates, bottles, or whatever else may by around you.
You can also play darts or "take part in the time-honored pastime of throwing empty beer bottles against the wall." We're not too sure about that last feature, but you may find it appealing if you've always wanted to throw bottles at a bar without real life consequences of being arrested.
Gamers who own an HTC Vive and who want to experience the "ultimate" billiards, darts, and air hockey virtual reality gaming may want to consider choosing to download Pool Nation VR. We've previously played the billiards portion of the game on Steam when it made its original debut over a year ago as Pool Nation FX. Although our experience with the game was with a traditional mouse and keyboard setup, we did find Pool Nation FX to be the most realistic pool game we've seen to date. Updating the game for VR devices such as the HTC Vive seems like the perfect next step for the franchise and will allow players to experience a new level of immersion.
Pool Nation VR is currently available on Steam for $19.99. If you're a gamer who doesn't own an HTC Vive yet still loves playing billiards, then we can certainly recommend checking out the normal version of the game. It'll be well worth your time.
Click to read more
and watch the video
or