MacBook Pro 2016 rebirth could be MacBook Air's demise
Apple ramps up new MacBook Pro release with no sign of a MacBook Air successor.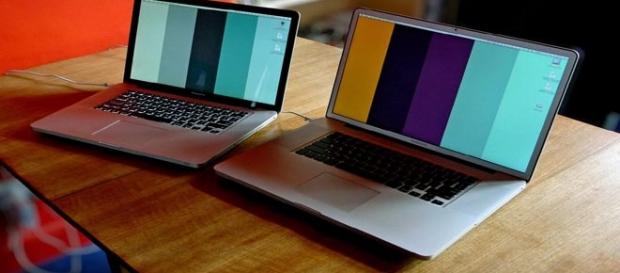 Apple is expected to come out with a MacBook Pro 2016 later this year, souped up and armed with new features expected to delight Mac fans. But while this line is moving up in the ranks of latest devices in the market, the same may not hold true for the MacBook Air.
MacBook Air stays up there
The MacBook Air has been in the rumor mill as of late with Apple fans wanting to know the real score. Will there be a MacBook Air 2016 at some point moving forward? The signs currently shown right now don't hold much promise.
The only consolation is that Apple has reportedly no plans of killing the Air line just yet, meaning it will still be around. The thing is that this will be the same product that launched back on Mar. 9, 2015. There were two variants released, the 11-inch and 13-inch version.
The only significant update came for the 13-inch variant, getting an 8 GB RAM bump. Other than that, the device looks pretty much the same. If ever an Air variant would be scratched, the 11-inch model looms as the logical casualty.
Planned MacBook Pro 2016 to be blamed?
While the MacBook Air is walking on thin ice, the MacBook Pro 2016 moves on. The next variant is expected to come armed with Intel's latest Skylake processor plus some added features like Touch ID, an NFC chip, wireless charging capability and an interesting OLED interface. It is expected to come armed with Apple's latest operating system, MacOS Sierra.
Of the mix, the OLED interface integration is looming as the most interesting of the lot. The rumored feature will take the place of the iconic function keys which should account for advanced and easier interface for Mac users.
Will the iPad Pro push the MacBook Air to the brink?
Adding to the woes of an impending demise of the Air line is the iPad Pro. Pegged to be Apple's ticket against Microsoft's Surface Pro series, the flexible laplet looks promising. But while it is being pushed as a productivity solution, the operating system raises questions. The MacBook Air runs on MacOS while the iPad Pro runs on iOS. That offers a big difference as far as productivity and software use so injecting the flexible device is not entirely seen. The MacBook Pro 2016 is likely to come out after Apple unveils the iPhone 7 this September.
That could hint at a possible release by the last quarter of 2016.  
Click to read more
You will watch a video to read the news
or