'ARK: Survival Evolved' first impressions and Steam sale
Popular Twitch.tv indie game offered at half the price on Steam through Aug. 3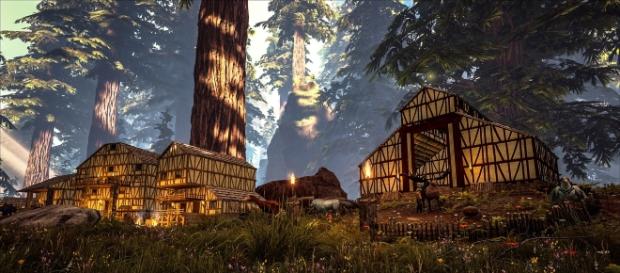 This weekend Studio Wildcard's ARK: Survival Evolved is selling for half the price on Steam. The game, which has been on presale through Steam's Early Access program for $29.99 for the better part of a year is now just $14.98 until Wednesday, Aug. 3. 
For those who aren't familiar with the game, in ARK: Survival Evolved you wake up naked on a mysterious island with a chip embedded on your arm. You must gather resources and use your wits to stay alive in this ultimate survival RPG. Words really don't do this title justice, and we encourage readers to check out the game on Twitch.tv. Pool Nation VR receives free air hockey update.
Game not a fit for all players
In addition to the sale, ARK: Survival Evolved has released new DLC with "Primitive+" and "The Center." Check out the trailers.
After sinking more than 100 hours into the Xbox One preview version of the title we've received from the company, this gamer certainly recommends ARK: Survival Evolved. That being said, it's certainly not everybody's cup of tea. The game isn't very intuitive at first. The Xbox One servers are constantly full. We  spent 40+ hours leveling a character only to not be able to log back in to that server for more than a week. This resulted in our base being deleted. On another server, we spent more than a week building a more advanced structure made of stone that wouldn't be deleted so quickly from a server only to have it blown up within five minutes by higher leveled characters who were riding a flying fortress of death that had rocket launchers. If the chance of being raided isn't your forte then you could certainly set up your own private server with friends or just play solo locally.
The new "Primative+" mode may help to alleviate some of the PVP complaints because it limits players to creating weapons and tools from wood and stone. They won't be able to make the more advanced weapons like guns. The "Center" DLC was actually based off of a fan mod, and offers a large new map to explore. We haven't yet had the chance to play it.
Pick Survival of the Fittest
For gamers interested in the Steam version of the game, we recommend first downloading ARK: Survival of the Fittest. It's a free to play stand-alone game that pits players against each other in a timed mode that's very much like The Hunger Games, except with dinosaurs. Instead of spending weeks to level up your character you'll be able to ride a T-Rex within minutes and get a general sense of how the main game works. Unfortunately though, the PC versions of the games do have quite intensive graphics requirements. You can, however, play ARK: Survival of the Fittest for free on PlayStation 4.  Is Pokémon Go craze fading away in America?
When you consider the fact that Studio Wildcard has previously mentioned that the price of the game will be raised to a full $60 once it is completed, the current promotion of just $14.98 is quite a steal, assuming that the title ever does come out of Early Access and not stay in a perpetual limbo like some other games we've seen, such as Day Z.
Click to read more
and watch the video
or